Product Specifications
Shell Material
Aluminum Alloy
Voltage
100 – 240V
Power Consumption
1092W
Product Size
1717 x 415 x 71mm (67.6 x 16.3 x 2.79in)
Net Weight
32kg
LEDs
840 * 5W Dual chip
Lens Beam Angle
30 Degree
Wavelengths
660nm + 850nm
Irradiance
156mW/cm² at 6 inches;
140mW/cm² at 12 inches;
132mW/cm² at 18 inches;
103mW/cm² at 24 inches.
EMF
0 μT @ 3 inches
Timer

(6 Levels)

5 / 10 / 15 / 20 / 25 / 30 Minutes
Dimmer (5 Levels)
20% / 40% / 60% / 80% / 100%
Pulse Frequency ((6 Levels)
10 / 40 / 73 / 146 / 293 / 587Hz
Cooling Fan Quantity
8
Life Span
100,000 Hours
Warranty
3 Years
Product Features
1. ALUMINUM ALLOY BODY. 1) High resistance to corrosion than common iron frame. 2) One of the most recyclable and environmentally friendly materials than plastic housing. 3) Heat-dissipation ability is better than caron steel and plastic materials. 4) Advanced texture.
2. PATENT COOLING TECHNOLOGY. Every lamp bead is well protected from low temperatures. Endurable for continuous use and extend the lifespan.
3. PATENT ACRYLIC PANEL. Heat-resistant, dust-proof and patented design to protect the lens and lamp beads. No naked lens.
4. EXCELLENT WATER-PROOF POWER SUPPLY. Pretty stable performance to support the entire versatile control system.
5. ALL WIRES CORRESPOND TO AWG. Strict quality is required.
6. METICULOUS CRAFTSMANSHIP. 1) Smooth rounded corners, and total flat design without protruding screws, which protect you adequately. 2) All vents for air circulation are in the rear, no any holes in the two sides. 3) Frosted surface finishing for better resistance to scratch.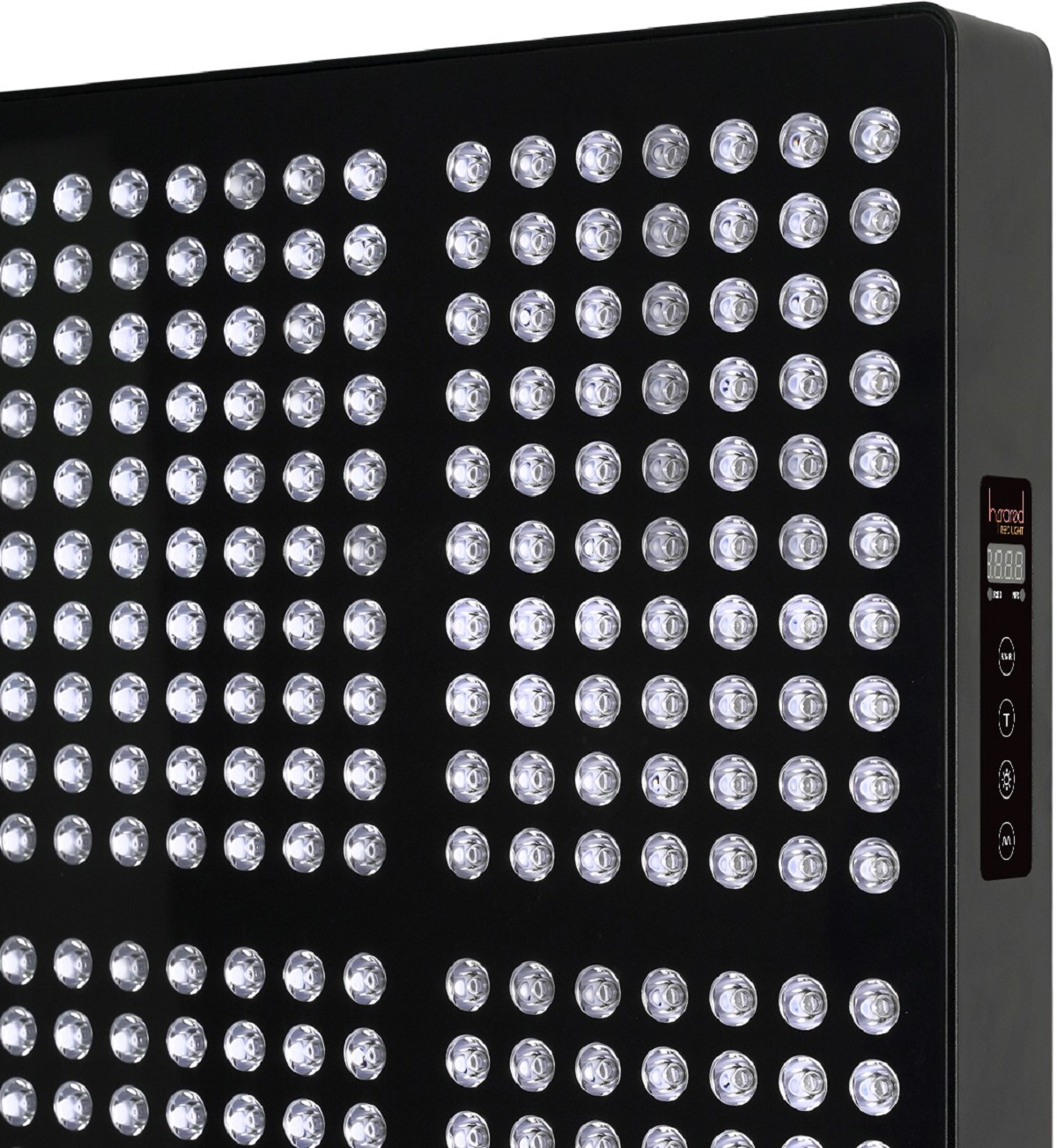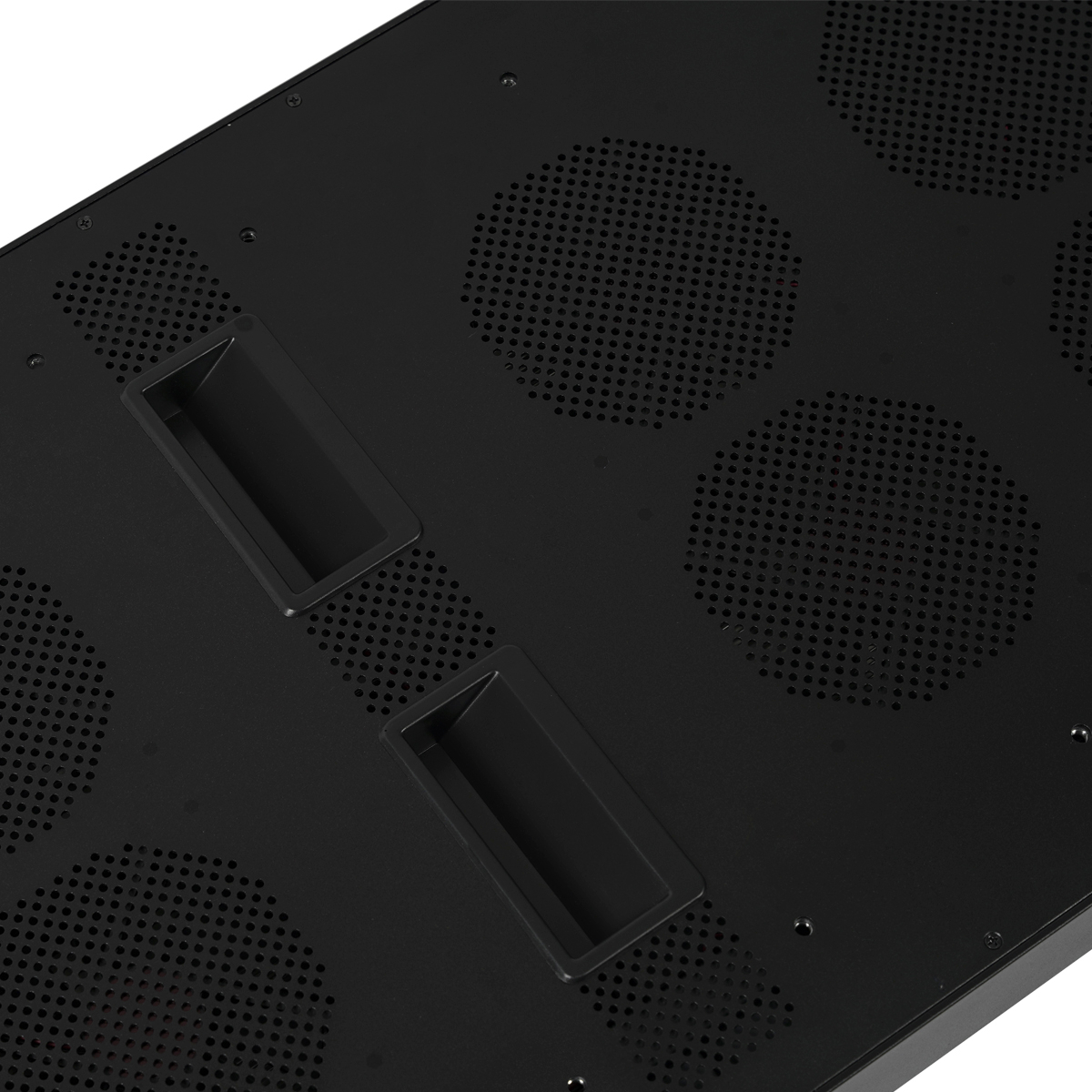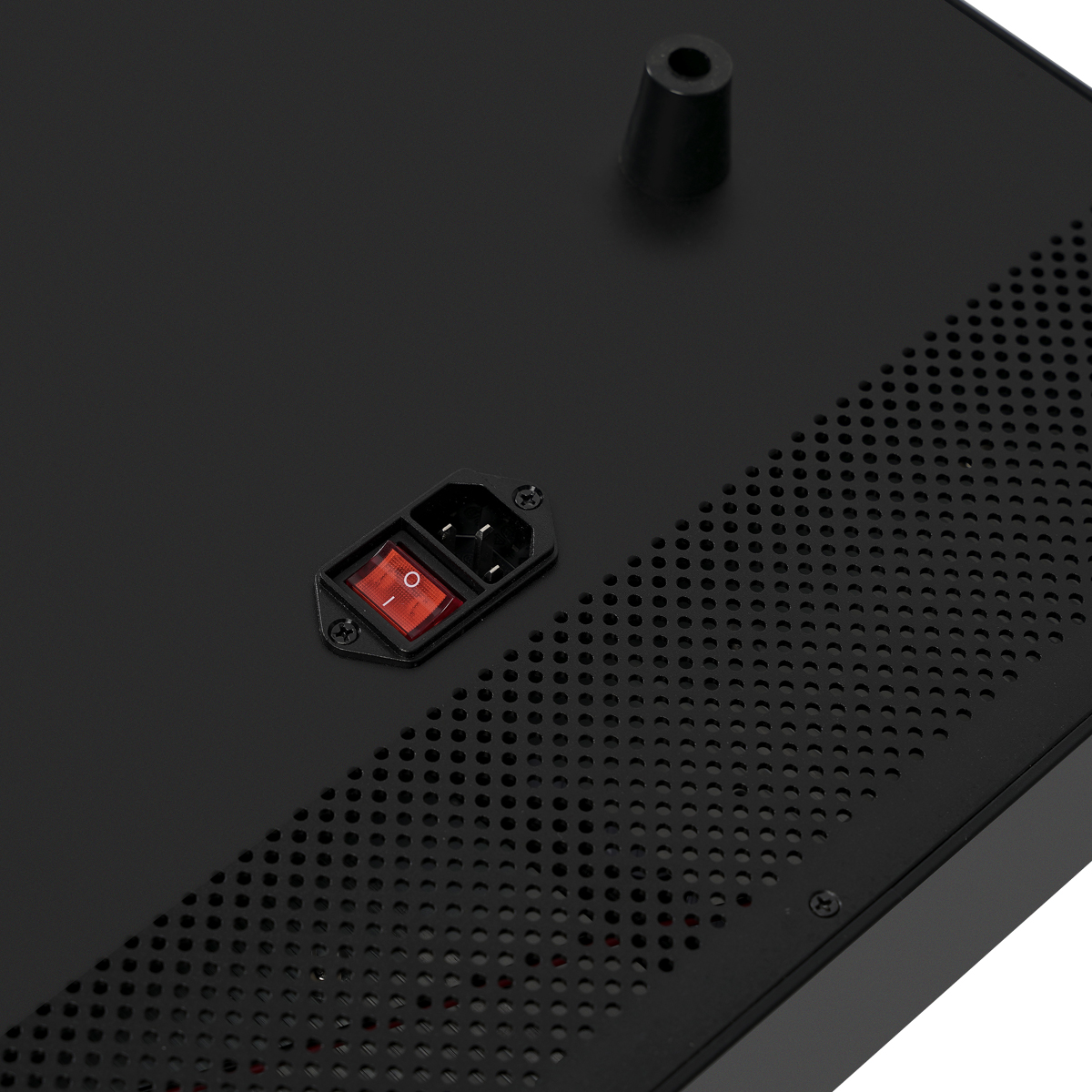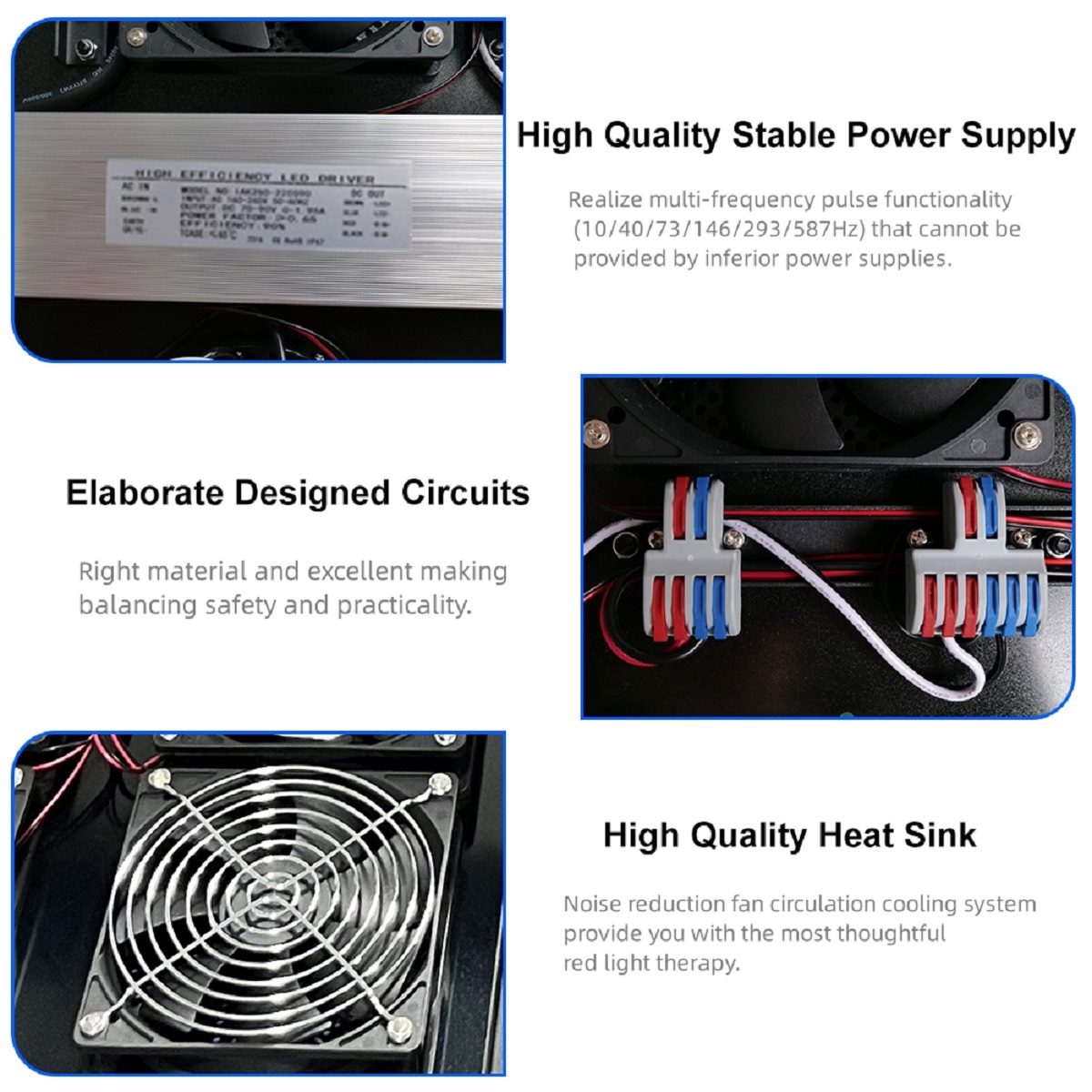 7. EFFICIENT LIGHT IRRADIANCE.


8. REAL MODULAR DESIGN.

9. CUSTOMIZABLE LIGHT SESSIONS.
1) Receive either red light, near infrared (NIR), or both at the same time.
2) Set the timer by 6 gears from 5 minutes to 30 minutes.
3) Brightness is adjustable from 20% to 100%.
4) Pulse frequency can be selected from 10Hz to 587Hz.

Light Mode Selection
Click the light button, 3 light modes can be switched: Red + NIR (1st) -> Red (2nd) -> NIR (3rd).
4th press for off.
5th press for another light mode selection cycle, Red + NIR (5th) -> Red (6th) -> NIR (7th).
When red light + NIR mode is selected, "RED" and "NIR" indicators lighten in green simultaneously;
When red light mode is selected, the "RED" indicator lightens in green;
When near infrared (NIR) light mode is selected, the "NIR" indicator lightens in green.
Timer Function
Click the timer button, 5 -> 10 -> 15 -> 20 -> 25 -> 30 minutes can be selected, it will begin to count down in 0.3s.
Press it for over 1s to halt the count down process, and press again for a continuation for the unfinished time.
Dimmer Function
Click the dimmer button, 5 levels of brightness can be switched to choose: 20% -> 40% -> 60% -> 80% -> 100%.
Pulse Function
Click the pulse button, 6 levels of pulse frequencies can be switched respectively: 10 -> 40 -> 73 -> 146 -> 293 -> 587Hz.
10. TWO-IN-ONE FOR MORE WELL-PROPORTIONED PHOTON DISTRIBUTION
One LED includes two chips, one for red light, another for infrared light.
So 840 LEDs have 1680 chips to generate light.
1) 660nm red light was generated by 840 Chips.
2) 850nm NIR was generated by 840 Chips.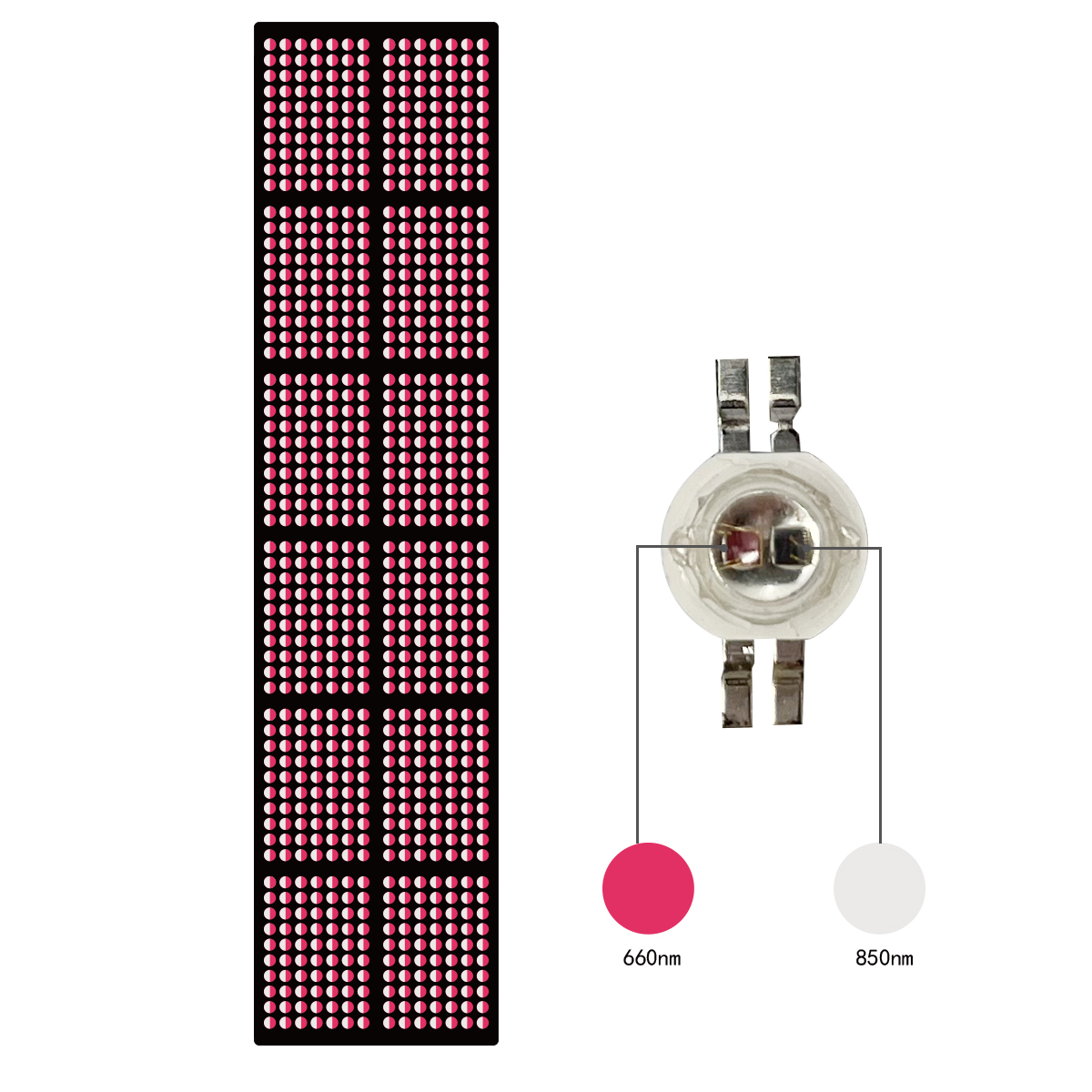 11. OPTIONAL MOBILE STANDS — ORDER FROM ACCESSORIES
1) Electric Mobile Stand
The most convenient stand, can be swivelled 360 degrees with adjustable height.
For more information: Electric Mobile Stand for Red Light Panel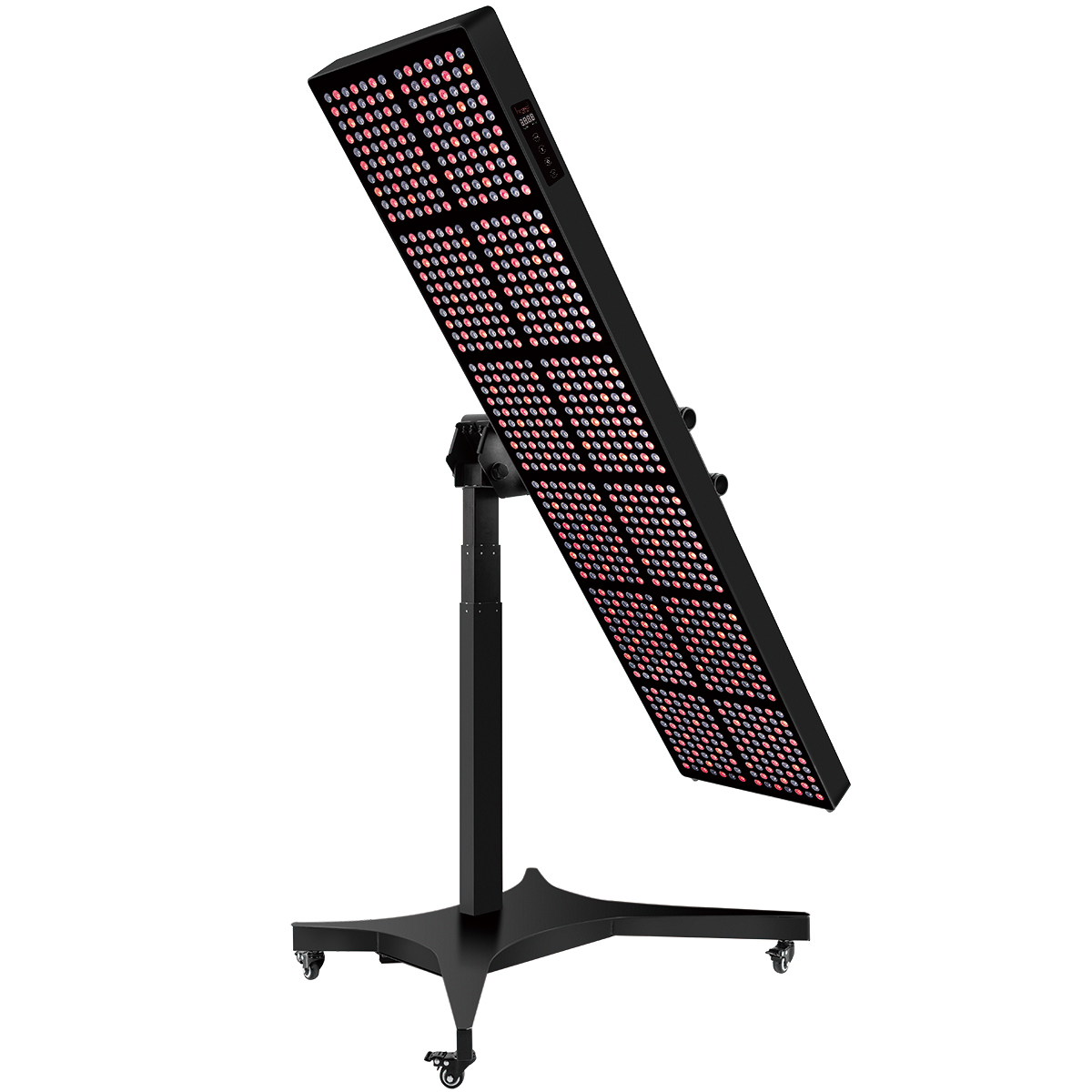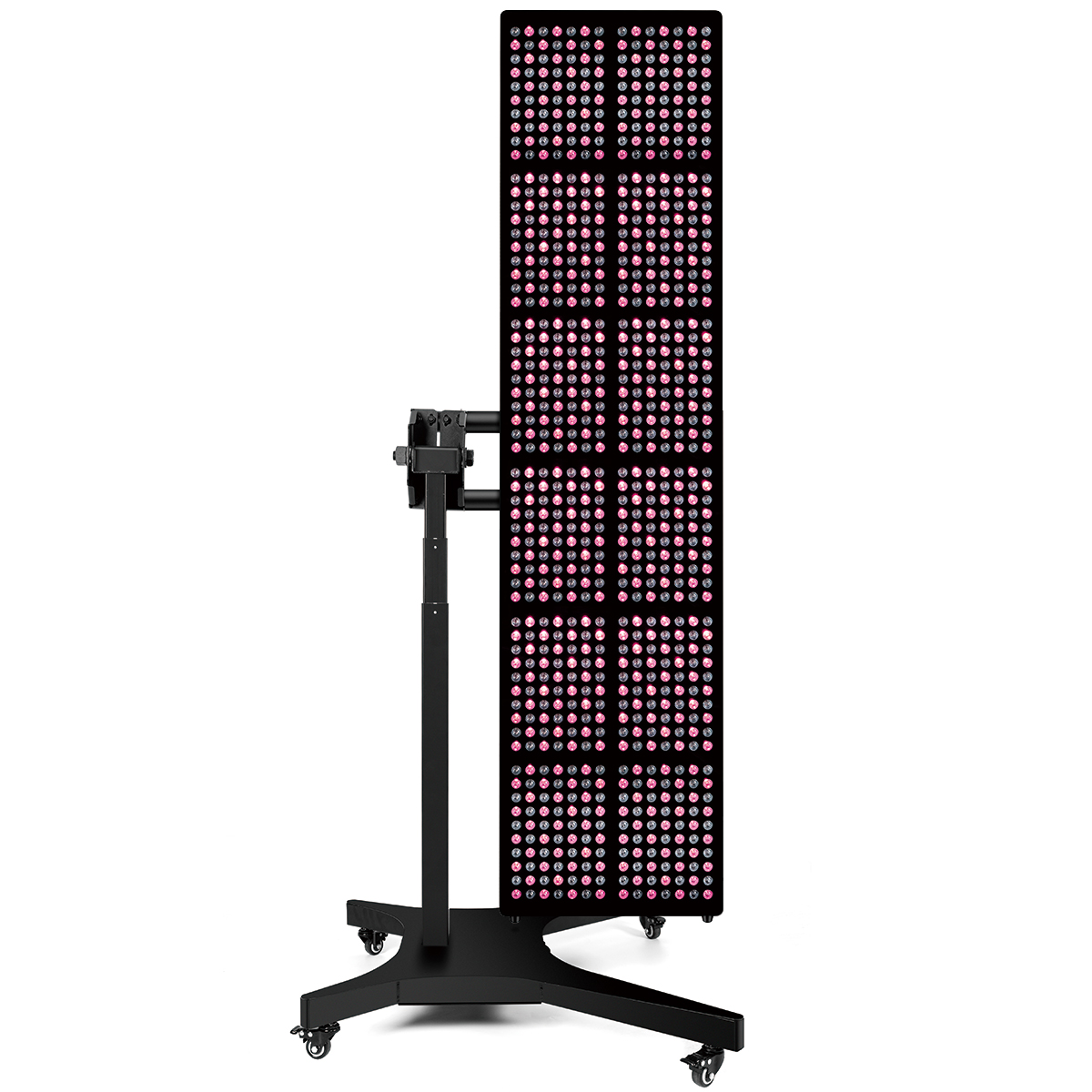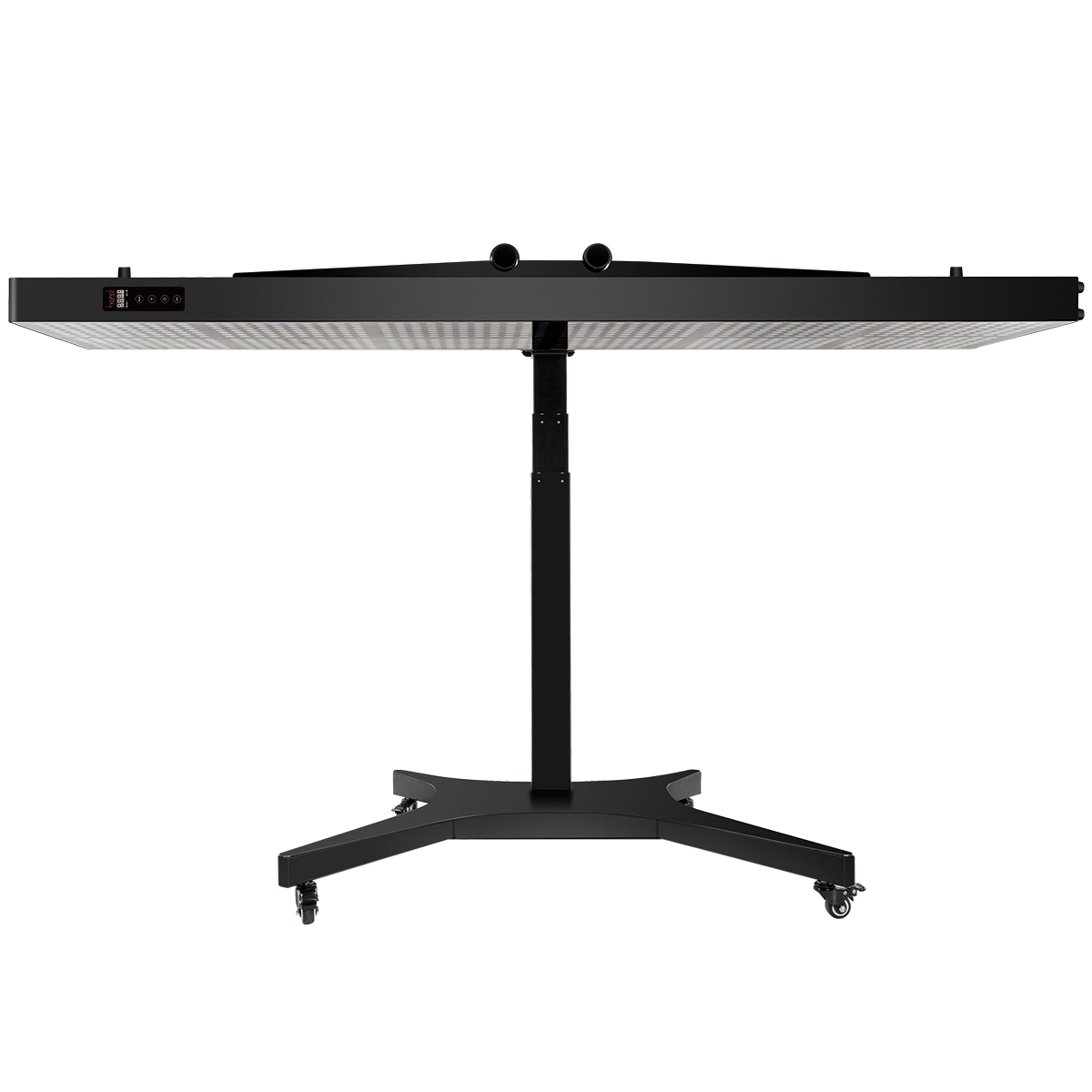 2) Manual Mobile Stand
Easy to move, support vertical and horizontal fixing. Order one via Red Light Therapy Stand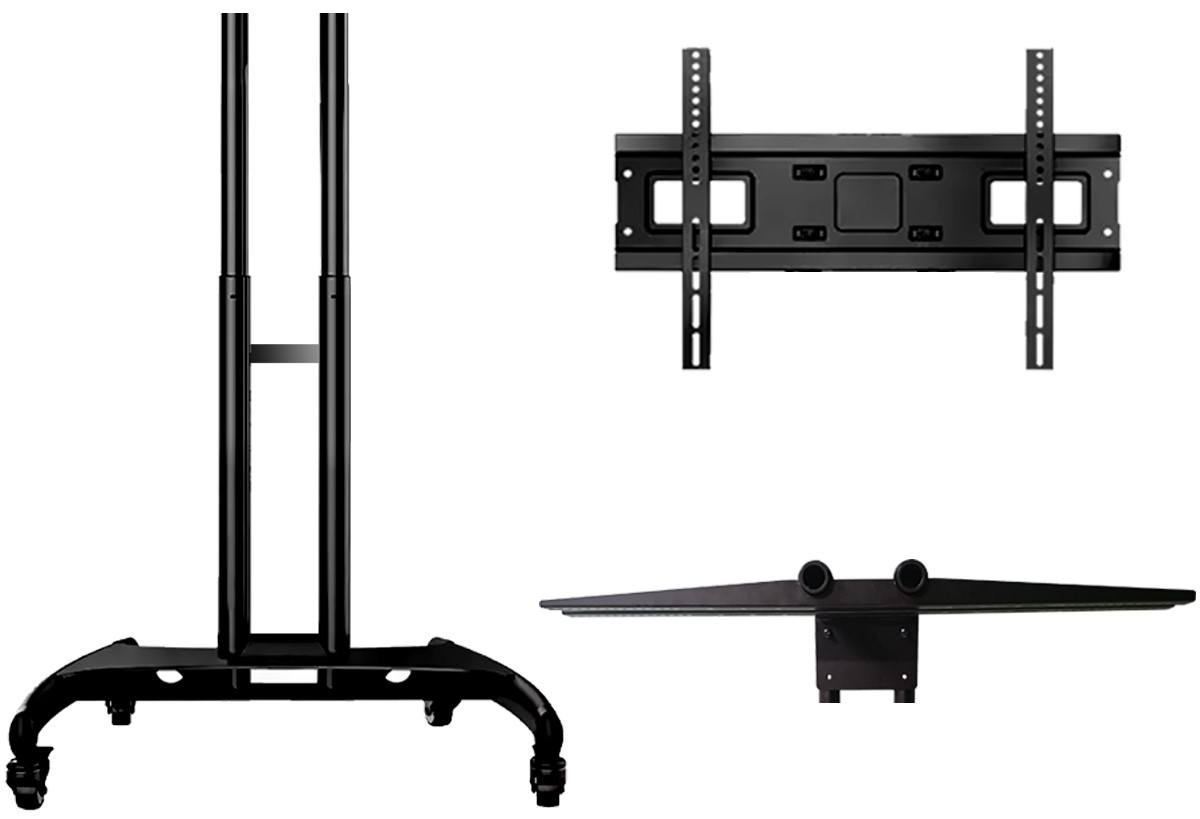 Red Light Therapy Effects
Red lights can be soaked up by a part of your cells called mitochondria, sometimes called the "power generators" of your cells, then makes more energy and spurs healing in skin and muscle tissue.
Infrared lights is invisible to the human eye, it has a powerful penerating ability, so, can be absorbed by the deep body tissues, then generates radiant heat from inside faster, enhances the cells activation, promotes tissue metabolism, improves blood circulation, reduces the excitability of nerve endings. The ability of cellular oxygen uptake and tissue nutrition will enhance, chemical and mechanical stimulation of nerve endings will go down, so, it helps relieve pain associated with joints and muscles, alleviate neuropathy, encourage nerve regeneration and repair.
Packing List
1 x Light Therapy Device
1 x Remote
1 x Power Cord (Follow your country standard)
1 x Wall Hanging Kit
1 x Protective Goggles
Note:
Acrylic base can be ordered from "Accessories".
Manual Mobile Stand can be ordered through the link Red Light Therapy Stand
Motor-driven Mobile Stand can be ordered through the link Electric Mobile Stand for Red Light Panel
Use Suggestion
Session:10 – 20 minutes for the same area in one session. It is better to start with a shorter session if you never use light therapy.
Frequency: 1 – 2 times a day for the same area treatment. Keep minimum 6 hours interval for the 2nd treatment for the same area.
Distance: Expose your skin and keep a distance at 6 – 24 inches from the device for best results.
Protect your eyes: Please wear goggles when enjoying the light therapy.
Tips: Drink some water before and during use.
NOT USE UNDER THESE CONDITIONS
Children under the age of 13, pregnancy and epilepsy, photo-allergy, and photosensitizing medications like lithium, melatonin, phenothiazine antipsychotics, and certain antibiotics.
People with a history of skin cancer, insensitive to heat, and systemic lupus erythematosus should also avoid this kind of treatment.
Besides, if you are currently taking steroids or cortisone injections, you should not receive light therapy.
Precautions
1. One treatment session for the same area should not exceed 30 minutes.
2. Turn off all power after finishing treatment, pull plugs off when not in use.
3. Do not use the device in the circumstances of hot, humid, dusty or have lampblack in the environment.
4. Keep your device away from sources of liquid, such as drinks, washbasins, bathtubs, shower stalls, and so on.
5. Keep your device in a cool, dry, well-ventilated location without corrosive gas.
6. Prevent impact or violent vibration, move it gently.
7. Avoiding alcohol or corrosive solvent to clean all parts of the device.
Maintenance
Turn off the power of your device first, and then unplug the power cord. Then use a light damp, soft, lint-free cloth to clean exterior. Do not spray liquid directly.
3-Year Warranty
All panels of Infrared Red Light (IRL) purchased new from IRL directly or an authorized reseller are warranted for a period of three years from the date of shipment from the factory. IRL will be responsible for the faults of the products caused by the normal using during the warranty period, repair or replace the corresponding component found to be defective at no charge to the purchaser.
IRL shall not be liable for any faults or damage caused by misuse, accidental or intentional damage, force majeure, or the product has been modified.