Product Specifications
| | |
| --- | --- |
| Main Materials | Fabric, F-PCB, LEDs |
| Rated Voltage / Power | 100-240V, 104W |
| Actual Power | 38W |
| Product Size | 600 x 200mm (23.5 x 7.8in) |
| Net Weight | 1.12kg |
| LED Quantity | 260pcs dual chip * 0.4W |
| Wavelengths | 660nm : 850nm = 1 : 1 |
| Light Energy Density | 0 inch > 100mW/cm² |
| EMF | 0 μT |
| Photon Mode | Red / NIR / Red + NIR |
| Timer | Default 20 minutes (5-30 minutes for option) |
| Dimmer (5 Levels) | 1 – 5 (20% / 40% / 60% / 80% / 100%) |
| Pulse Frequency (7 Levels) | 4 / 10 / 40 / 73 / 146 / 293 / 587Hz |
| Life Span | > 50,000 Hours |
| Warranty | 1 Year |
Optimal Combination of Red Lights and Near Infrared Rays (NIR)
Each one light-emitting diode has 2 chips for light generation, one for 660nm visible red light, another for 850nm invisible infrared light.
It's good for penetrating the body deeper, absorbing much more photon energy and jump-start body reaction fast.
The red lights can be absorbed by skin tissues, then stimulates collagen and elastin production, repairs damaged tissues, reduces inflammation, tightens loose skin, lightens freckles and red bloodshot, removes fine lines and shrinks pores.
Infrared rays (IR) can penetrate more deeply to reach muscle tissue and nerves, then the cells absorb the nature heat energy and become more active, then increase blood circulation, reduce inflammation and alleviate the pains.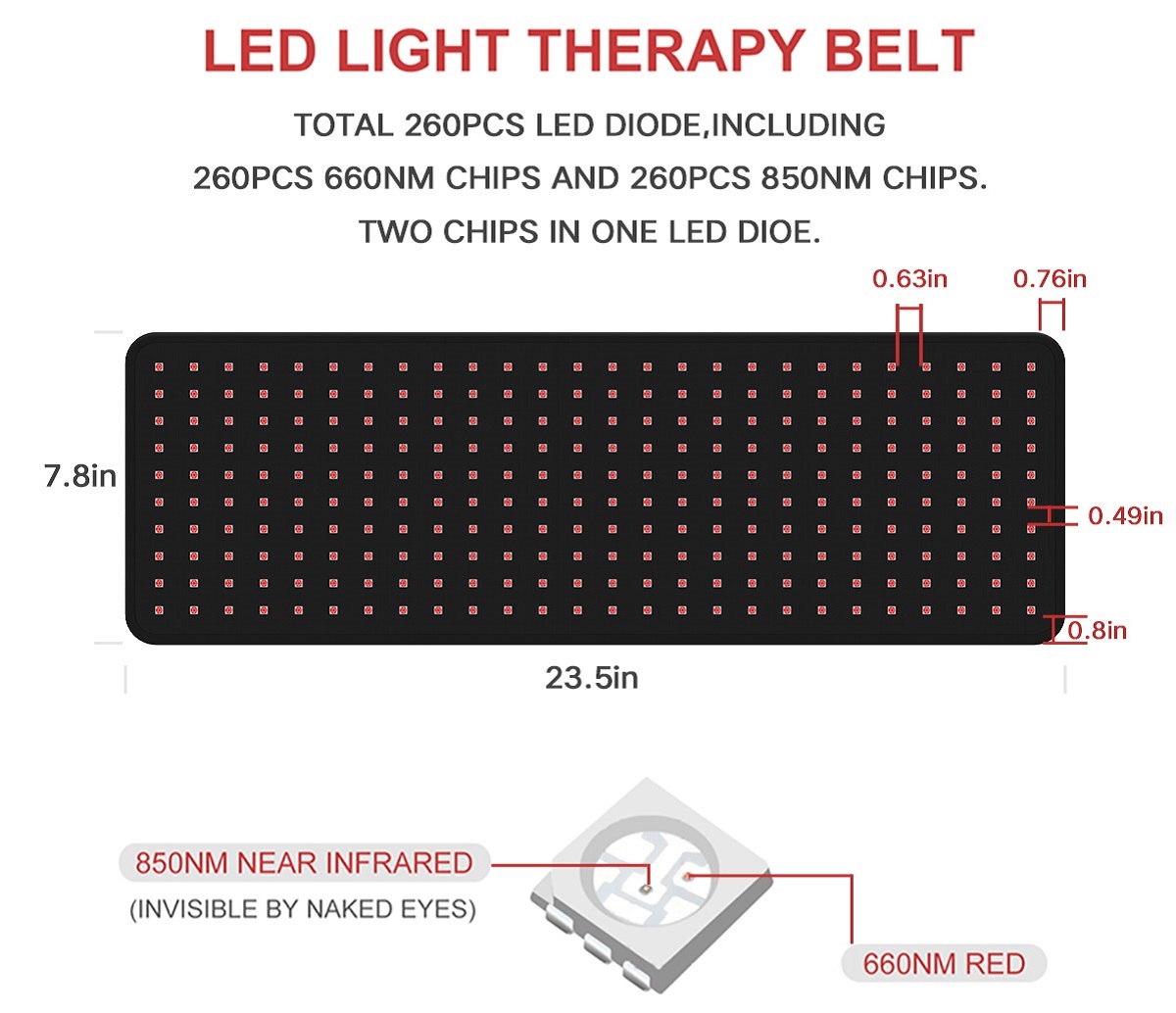 Design Features
1. Medical-grade LEDs, 260pcs. Dual chips structure, so total 520pcs light sources.
2. High quality fabric, environmental and safe to our health.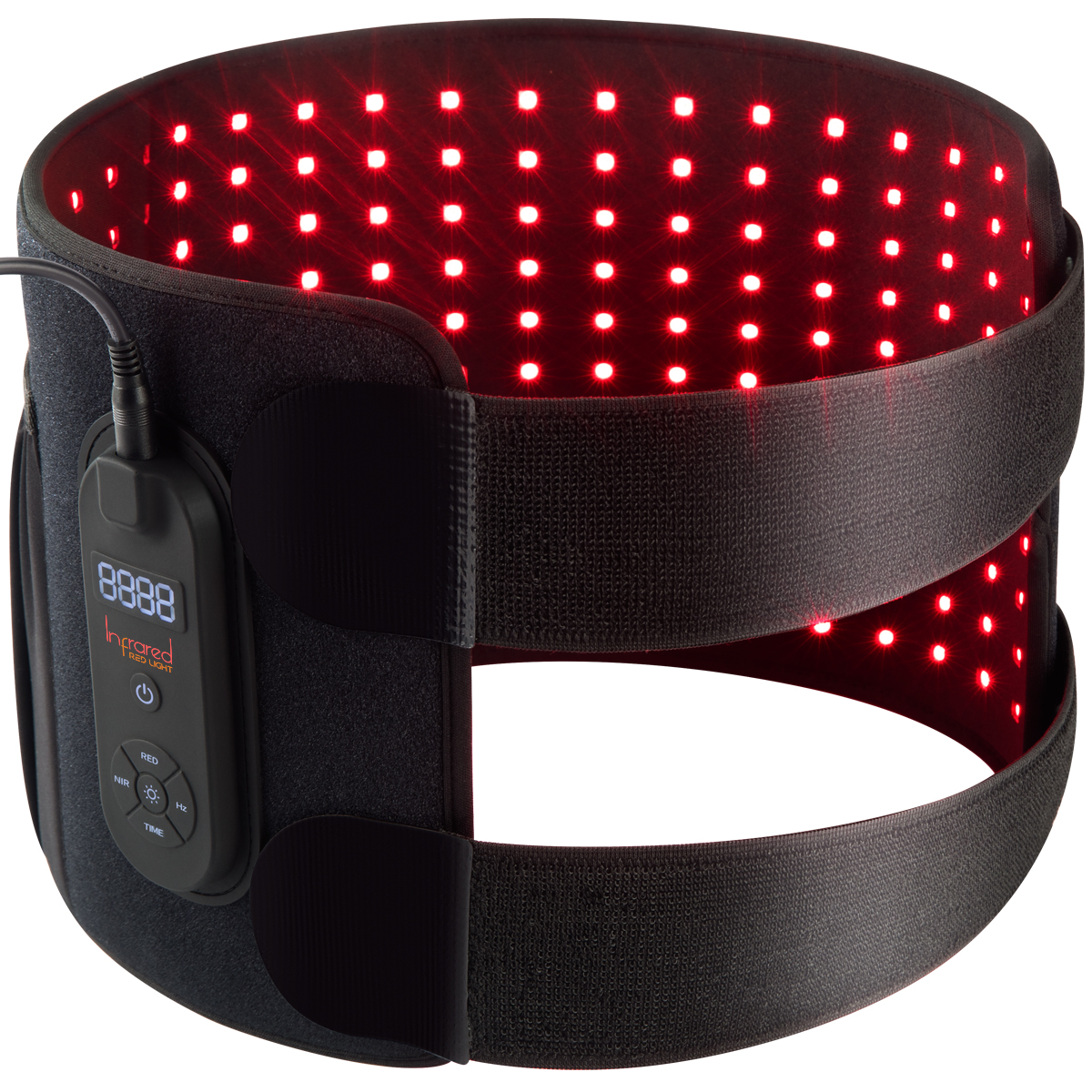 3. A pocket for power bank storage was designed on the belt for portable use.
4. The light therapy belt can be used both by DC (12V/3A) and AC (100V-240V) power supply.
Wherever you are, outdoors or indoors, near the power outlet or not, you can always enjoy your light therapy freely.
5. Two controllers.
One is on the belt, with a display for easy checking to your setting value.
Another is a remote, which can control the belt at a further distance of 15 meters, even up to 20 meters.
6. Advanced control system.
5-30 minutes timer, 5 gears dimmer function, 7 pulse frequencies and 3 light modes for your option.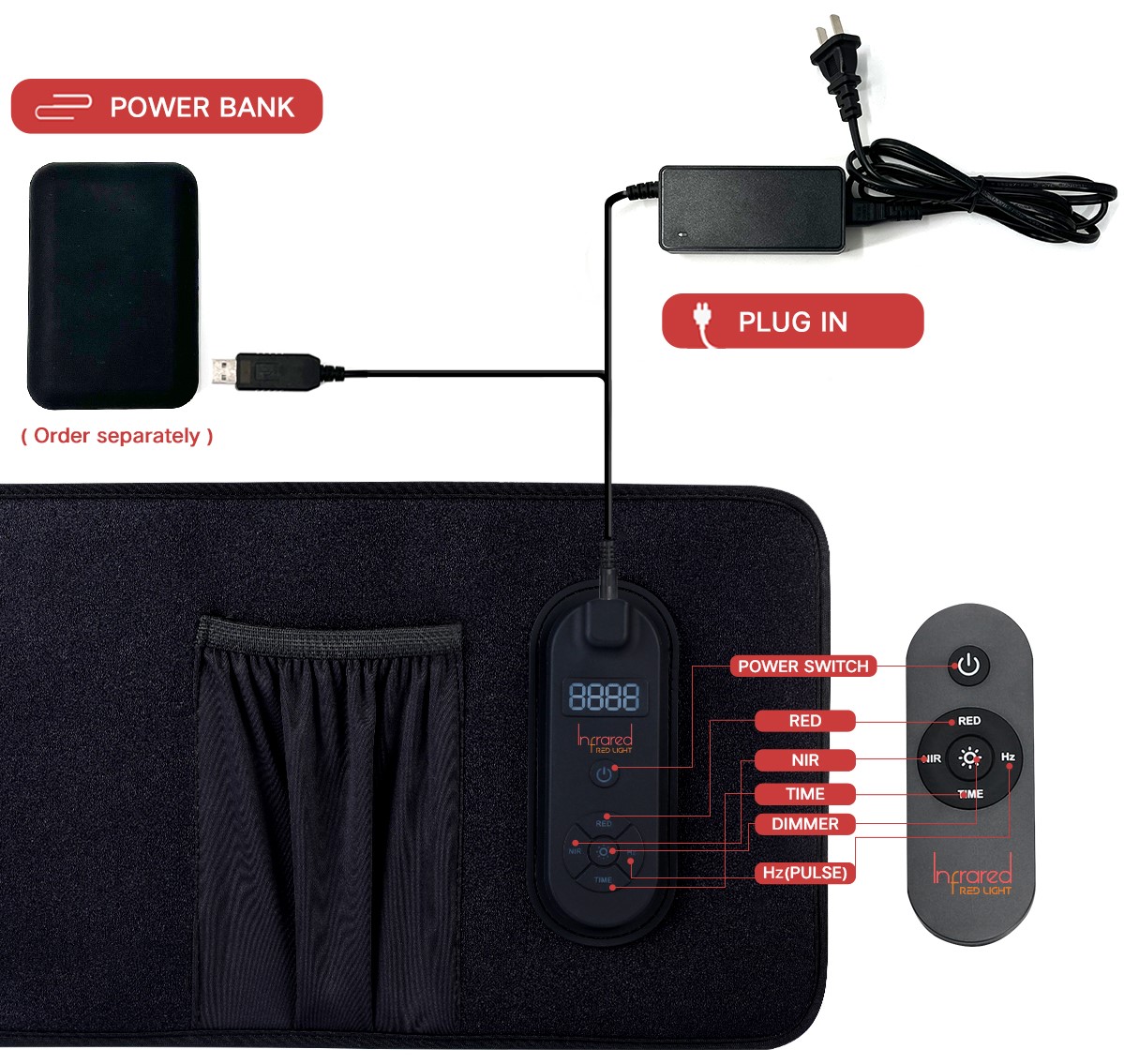 Easy Operation
1. Power Switch Button:For turn on and turn off. Turn on the pad, it automatically goes into "RED+NIR" mode.
2. "RED" Button: Press it for only "RED" mode. You will only receive the red lights, bright and no heat.
3. "NIR" Button: Press it for only "NIR" mode. You will only receive the NIR lights, and feel the heat, they are invisible to our naked eyes.
4. "Time" Button: Default 20-minute, pressing it to adjust the time, 25 -> 30 -> 0 -> 5 -> 10 -> 15 ->20 minutes, then goes into another cycle.
5. "Hz" : 7 pulse frequencies for your option, 4 / 10 / 40 / 73 / 146 / 293 / 587Hz.
6. "Dimmer" Button (in the middle): For brightness and light energy adjustment, 1=20%, 2=40%, 3=60%, 4=80%, 5=100% (full power), total 5 levels can be chosen.
High Elastic Rubber Band for Well Wrap
Exquisite workmanship and high elastic rubber band is utility and durable.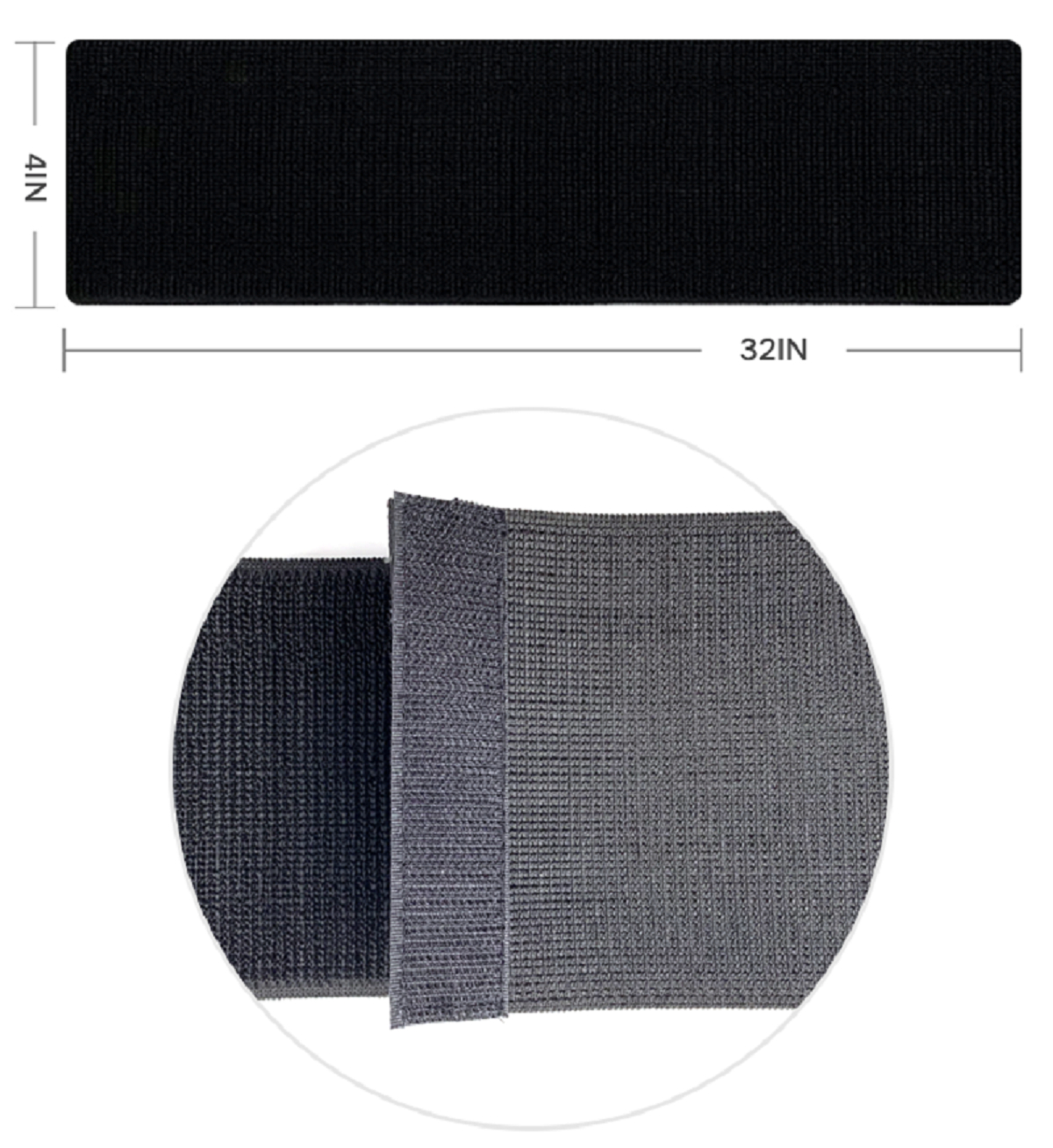 Versatile Applications
The red light therapy belt can be used to cover your arms, legs, hip, abdomen, lumbar, shoulder or your dogs and cats. It helps to give the target tissues more energy and regenerate themselves. If you have any disorder of your joints and muscles, like frozen shoulder, arthritis, muscle strain, potbelly, etc., and want a light therapy experience with a little money, then the belt will undoubtedly be the best choice, order for yourself today.

Usage Suggestions and Maintenance
1. 20 minutes a session, 1-2 times a day for the same area at an interval of 6 hours, and last for a minimum of 8 weeks.
2. Drink some water before and during use.
3. Uncover your skin and pad for better light therapy results. If you need to wear some clothes, then a thin and silk one is better than a cotton or thicker one.
4. After use, unplug and store the belt in a cool and dry area.
5. All LEDs are waterproof designs, and it is safe to use a light damp cloth to gently wipe the surface to clean.
Package Includes
1x Therapy Belt
2x High Elastic Rubber Band
1x Remote Controller
1x Power Cord (Follow your country standard)
1x Adaptor
Power bank can be purchased via the link: Power Bank DC 12V
Warning
1. NOT USE UNDER THESE CONDITIONS: Children under the age of 13, pregnancy and epilepsy, photo-allergy, and photosensitizing medications like lithium, melatonin, phenothiazine antipsychotics, and certain antibiotics. People with a history of skin cancer and systemic lupus erythematosus should also avoid this kind of treatment. Besides, if you are currently taking steroids or cortisone injections, you should not receive light therapy.
2. One treatment session for the same area should not exceed 30 minutes.
3. The light therapy product is not waterproof design, keep away from water and damp area.
4. Do not fold and squeeze the pad, please loose roll it to prevent the built-in flexible PCB board from fracturing, unfold and flat storage will be the best way.
1-Year Warranty
All pads of Infrared Red Light (IRL) purchased new from IRL directly or an authorized reseller are warranted for a period of one year from the date of shipment from the factory. IRL will be responsible for the faults of the products caused by the normal using during the warranty period, repair or replace at no charge to the purchaser.
IRL shall not be liable for any faults or damage caused by misuse, accidental or intentional damage, force majeure, or the product has been modified.