Video: Product display
Video: Operation
Product Specifications
Shell Material
Aluminum Alloy
Voltage
100 – 240V
Power Consumption
268W
Product Size
880 x 216 x 71mm (34.6 x 8.5 x 2.79in)
Net Weight
8.6kg
LEDs
210 * 3W or 210 *

5W Dual chip

Lens Beam Angle
30 Degree
Wavelengths
2 of 660nm + 850nm
or
5 of

630nm

+ 660nm +

810nm + 830nm

+ 850nm
Irradiance
146mW/cm² at 6 inches;
129mW/cm² at 12 inches;
116mW/cm² at 18 inches;
98mW/cm² at 24 inches.
EMF
0 µT
Timer

(6 Levels)

5 / 10 / 15 / 20 / 25 / 30 Minutes
Dimmer (5 Levels)
20% / 40% / 60% / 80% / 100%
Pulse Frequency ((6 Levels)
10 / 40 / 73 / 146 / 293 / 587Hz
Cooling Fan Quantity
2
Life Span
> 50,000 Hours
Warranty
3 Years
Housing Design (Patent)
No detail, can be too detailed.
Integrally-formed aluminum alloy frame with rounded corner and perfectly flat cover design, whole surface is smooth, preventing any hurt may be caused by keen-edged corners or any bolts.
More scratch-resistant with matte-finished surface, protect your love device.
An extra heat-resistant and dust-proof acrylic panel was attached to the front to protect the lamps and enhance the texture.
Use anti-collision and anti-skid rubber feet at the bottom and back to protect your device well.
Built-in handle design in the back for easy carry.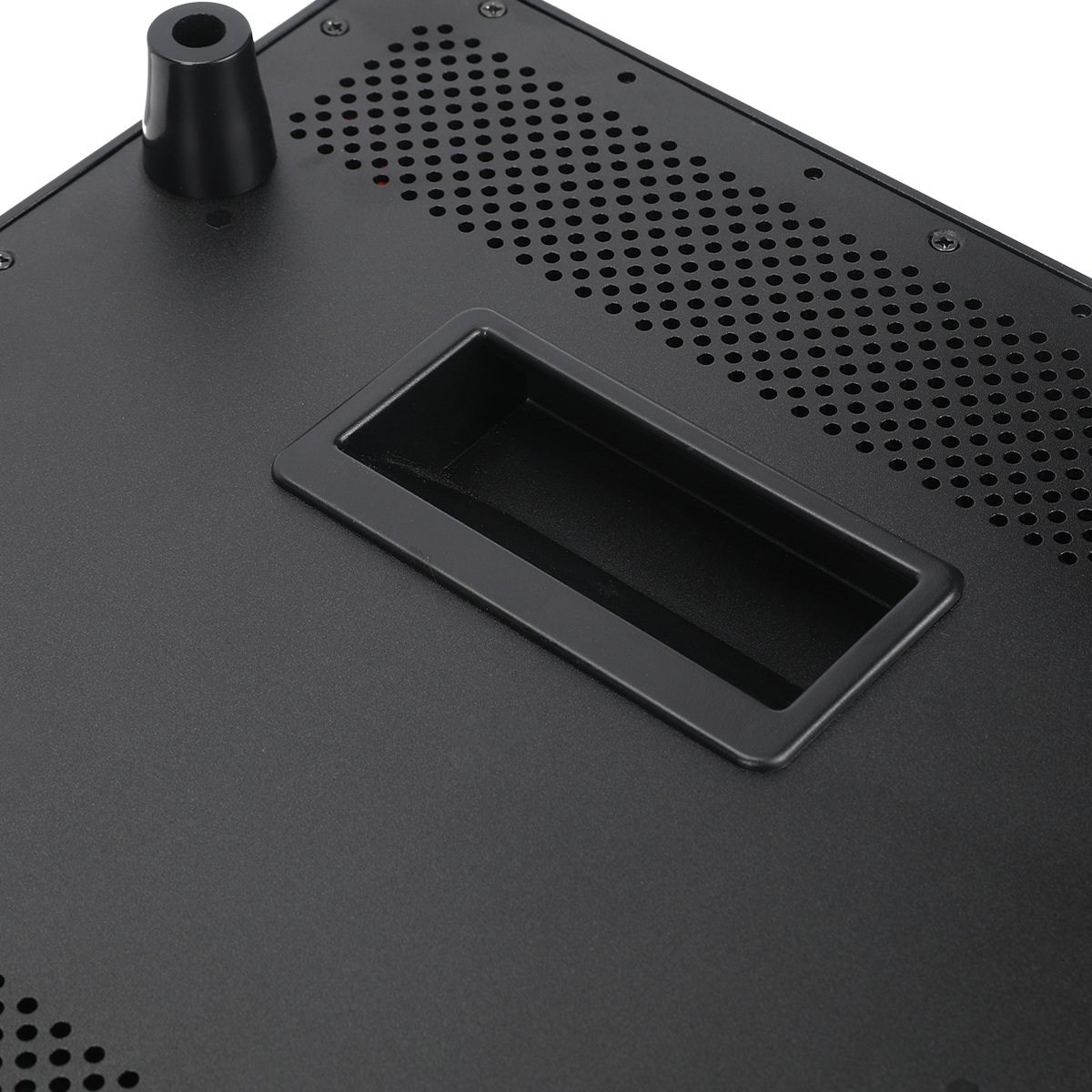 Cooling System Design (Patent)
The patented cooling system design helps lengthen the life span of the device, supporting commercial and family use without worrying about overheating after one or two sessions. Hydrodynamic heat dissipation technology, cooling fins, two high-speed operating cooling fans and honeycomb heat dissipation vents were applied to promote air circulation and heat dissipation. With a silent character, the fans operate at a very low noise level, you can enjoy your red light therapy in a quiet state.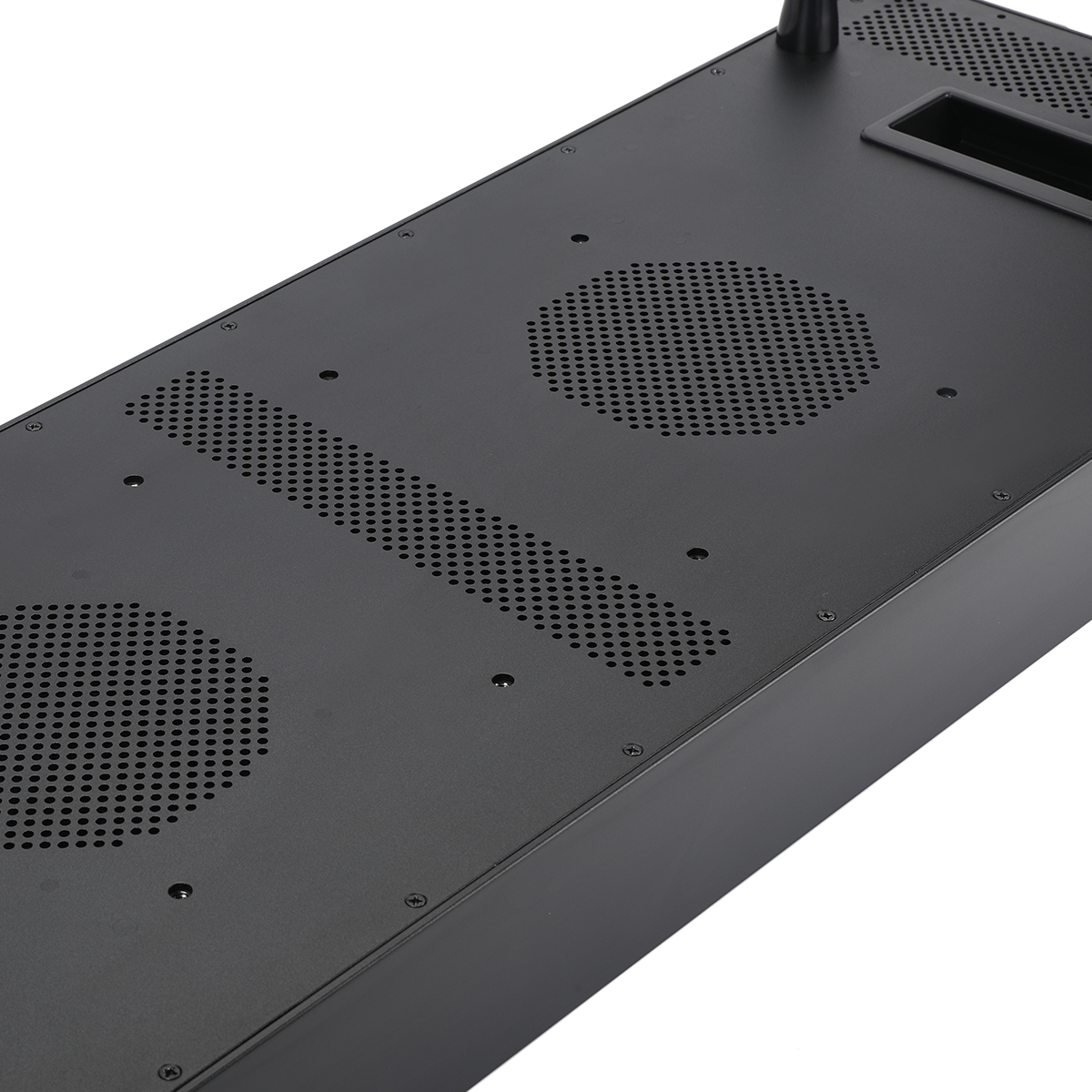 Cascade Design (Patent)
Can be connected to more panels and use conveniently based on unified control.
Proud to say that only one power cord is needed.
Do not need multiple power cords for each panel, do not need an extra button to select the function, and do not need to identify which outlet is for signal in or out, as the two signal outlets have the same function for free choice.
Cascading Mode Can be Opreated Easily:
1. Keep one panel plugged in.
2. Connect more panels with the signal cable. The suggestted maximum cascading quantity is 6.
3. Then use any one of the remote to control the operation. (Long-press the "R/NIR" buttons of other remote controllers for 5s to close their remote function, again to open the function. Indeed, the operation is not required, if other remote controllers are well retained and will not impact your control.)
4. The control board of each panel can be used to control the corresponding panel for particular needs.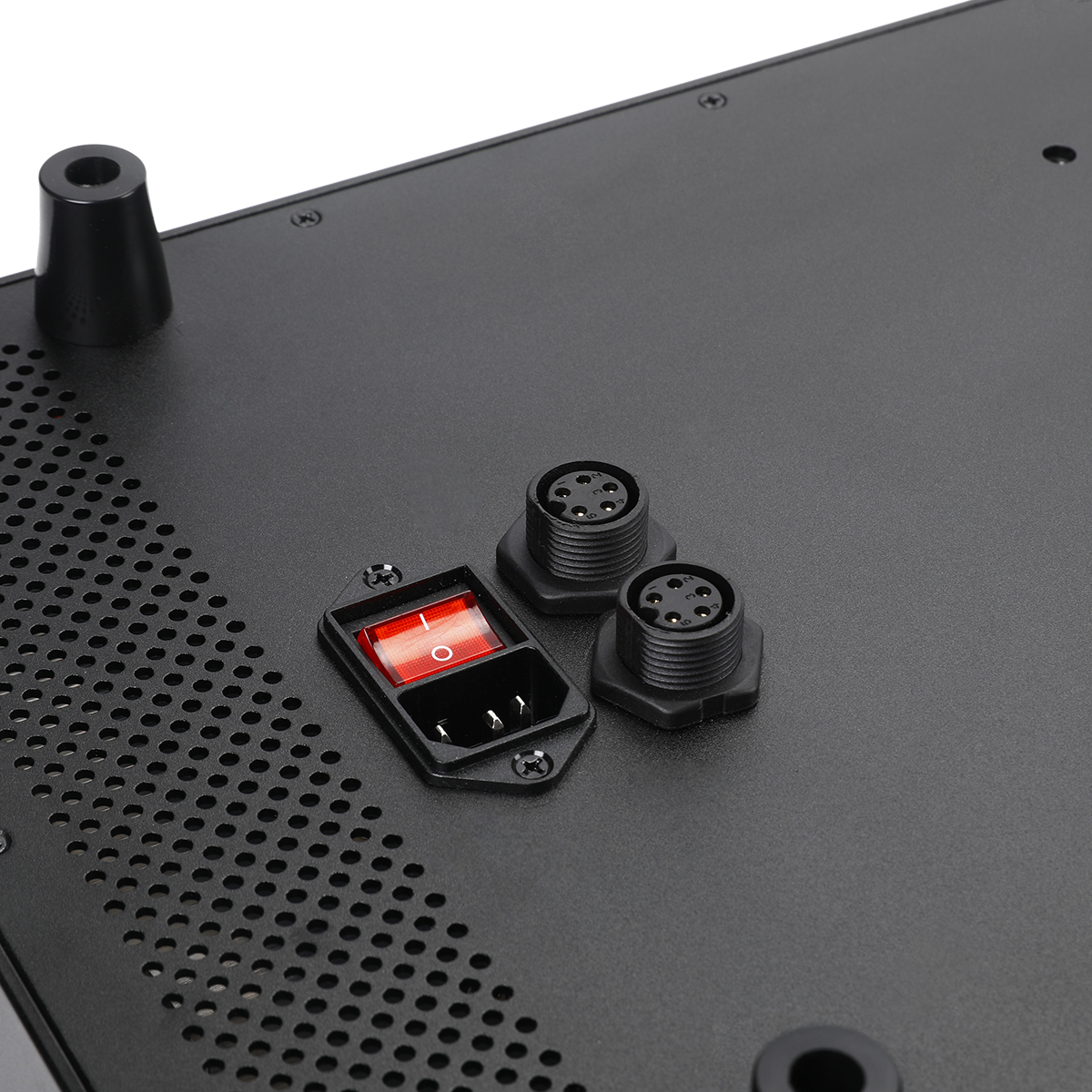 High Irradiance

Major Materials
Lamp beads: High-quality 38mil and 42mil LED Chips, gurantee useful photon radiation.
Power Supply: Waterproof IP67. Aluminum alloy metal housing, easy to dissipate heat and ensure stability.
Electrical Wires: All are American Wire Gauge (AWG) for more stable performance.
Easy-to-use by Control Panel or Remote Control
After connecting the power and turning on the power switch on the lower back. You can click the buttons on the control panel or remote controller to set up the light, time, brightness and pulse frequency for light therapy.

Light Mode Selection
Click the light button, 3 light modes can be switched: Red + NIR (1st) -> Red (2nd) -> NIR (3rd).
4th press for off.
5th press for another light mode selection cycle, Red + NIR (5th) -> Red (6th) -> NIR (7th).
When red light + NIR mode is selected, "RED" and "NIR" indicators lighten in green simultaneously;
When red light mode is selected, the "RED" indicator lightens in green;
When near infrared (NIR) light mode is selected, the "NIR" indicator lightens in green.
Timer Function
Click the timer button, 5 -> 10 -> 15 -> 20 -> 25 -> 30 minutes can be selected, it will begin to count down in 0.3s.
Press it for over 1s to halt the count down process, and press again for a continuation for the unfinished time.
Dimmer Function
Click the dimmer button, 5 levels of brightness can be switched to choose: 20% -> 40% -> 60% -> 80% -> 100%.
Pulse Function
Click the pulse button, 6 levels of pulse frequencies can be switched respectively: 10 -> 40 -> 73 -> 146 -> 293 -> 587Hz.
Red Light Therapy Effects
The lamp emulates the wavelength of natural sunlight to provide red light and invisible infrared light sources for photobiomodulation (PBM).
Red light sources have been demonstrated to be effective and safe for skin rejuvenation and intradermal collagen production. Red light is effectively absorbed by your skin, then increases blood circulation, stimulates collagen and elastin production. Collagen is an essential protein that is used to repair damaged tissues. It helps heal wounds, remove acne scars, shrink pores, tighten loose skin, lighten freckles and redness, etc.
Infrared light sources of IR-A (760–1400nm) will penetrate into skin, they go through the epidermis, dermis, and subcutaneous tissue to reach 5-10mm deep, then generate radiant heat from inside out, giving you rapid built-in heat therapy, improving tissue metabolism, dampening inflammation, reducing pain associated with joints and muscles, alleviating neuropathy, encouraging nerve regeneration and repair.
Three Types of Lamp Beads for Option
One: 3W Two-Waveband
1) 660nm red light, which is deep-red, 105 LEDs.
2) 850nm NIR, which is invisible by human eyes, 105 LEDs.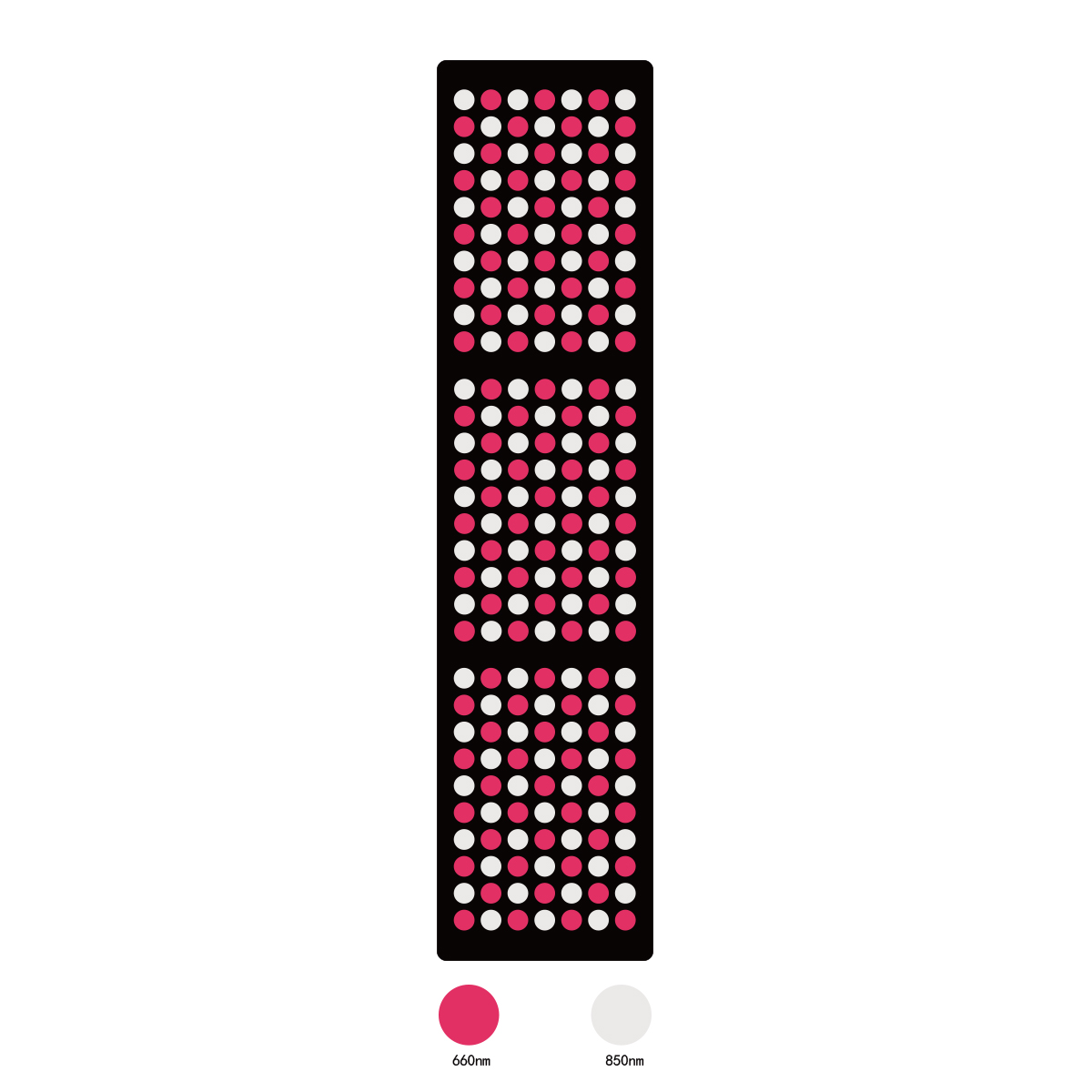 Two: 3W Five-Waveband (3 more wavelengths for next level therapy)
1) 630nm red light was emitted by 21 LEDs.
2) 660nm red light was emitted by 84 LEDs.
3) 810nm NIR was emitted by 12 LEDs.
4) 830nm NIR was emitted by 9 LEDs.
5) 850nm NIR was emitted by 84 LEDs.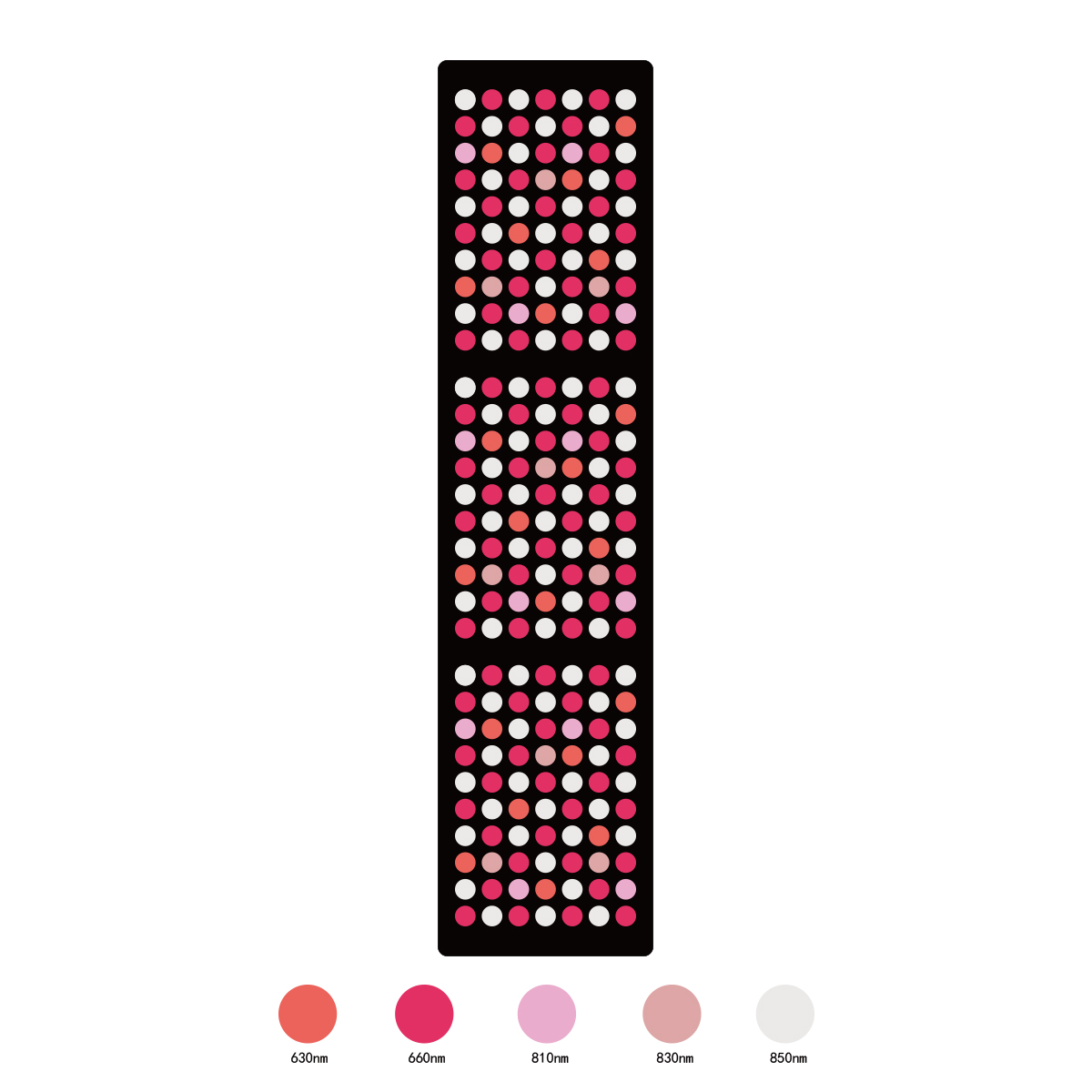 Three: 5W Two-Waveband (Red and NIR lights are distributed more evenly)
One LED includes two chips, one for red light, another for infrared light. So 210 LEDs have 420 chips to generate light.
1) 660nm red light was generated by 210 Chips.
2) 850nm NIR was generated by 210 Chips.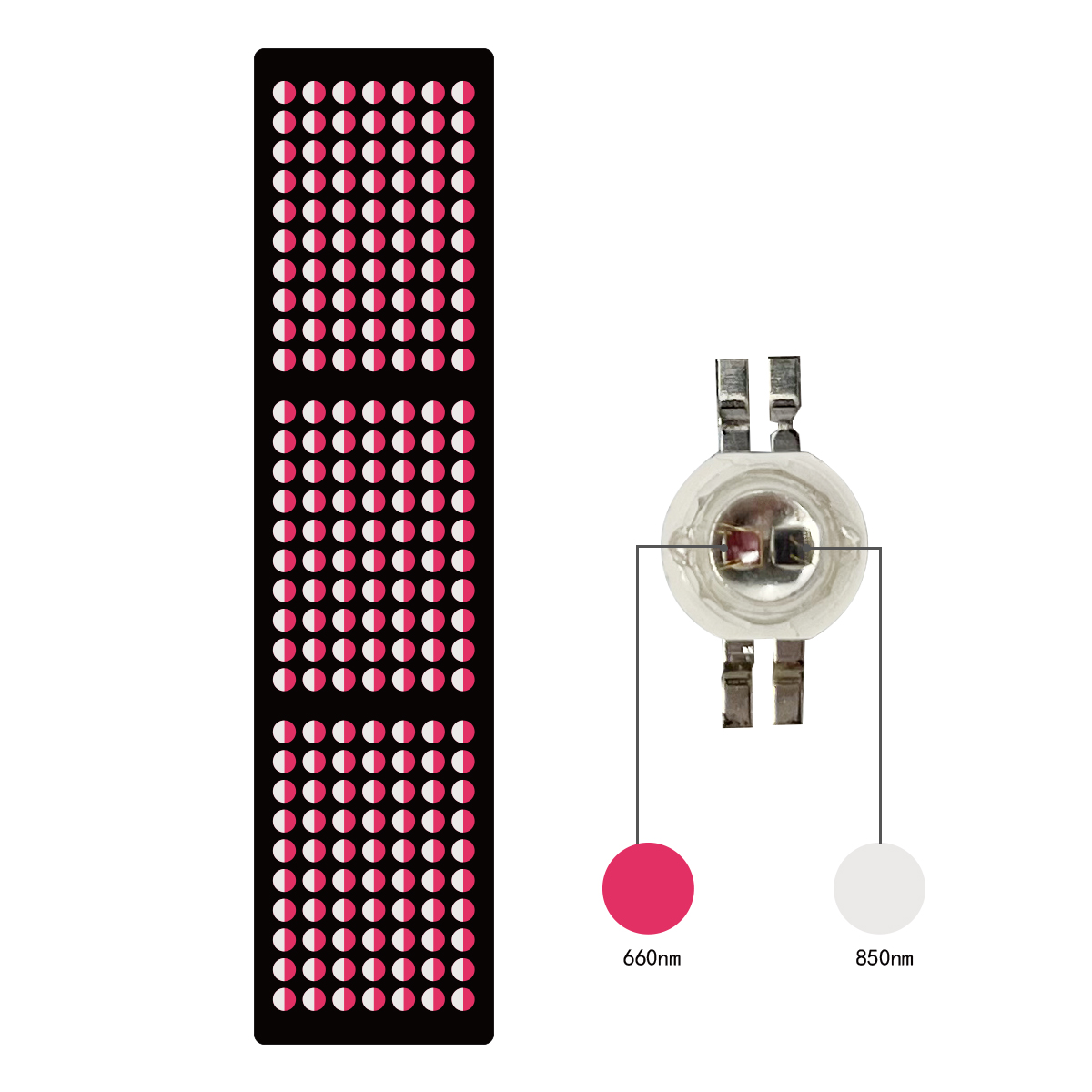 Conveniently Use with Complimentary Door Hanging Kit
You can follow the video to mount your lamp on the door or wall.
Video: Door/wall hanging
Manual Mobile Stand for Both Vertical and Horizontal Hanging
You can order the stand separately via the product link Red Light Therapy Stand
Horizontal hanging with 1 or 2 panels.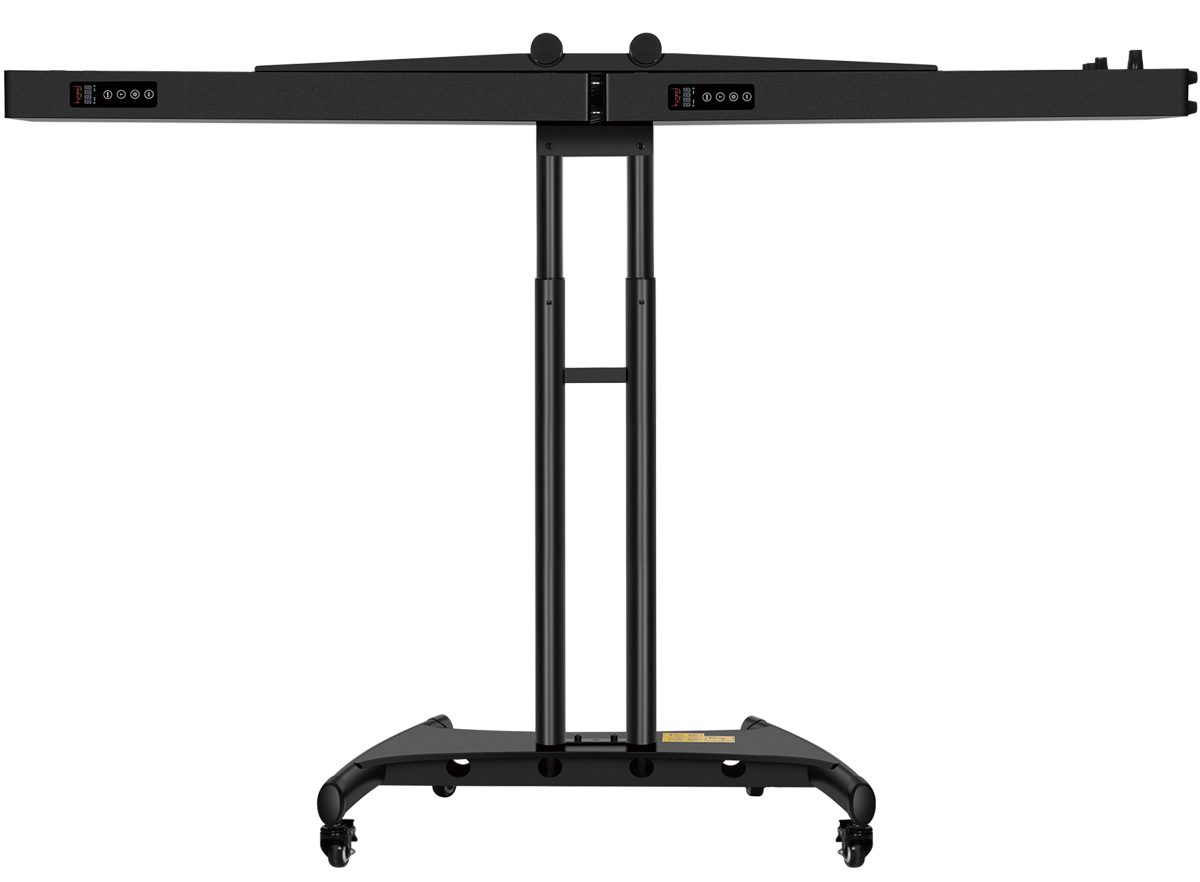 Vertical hanging with 1 or 2 or 4 panels.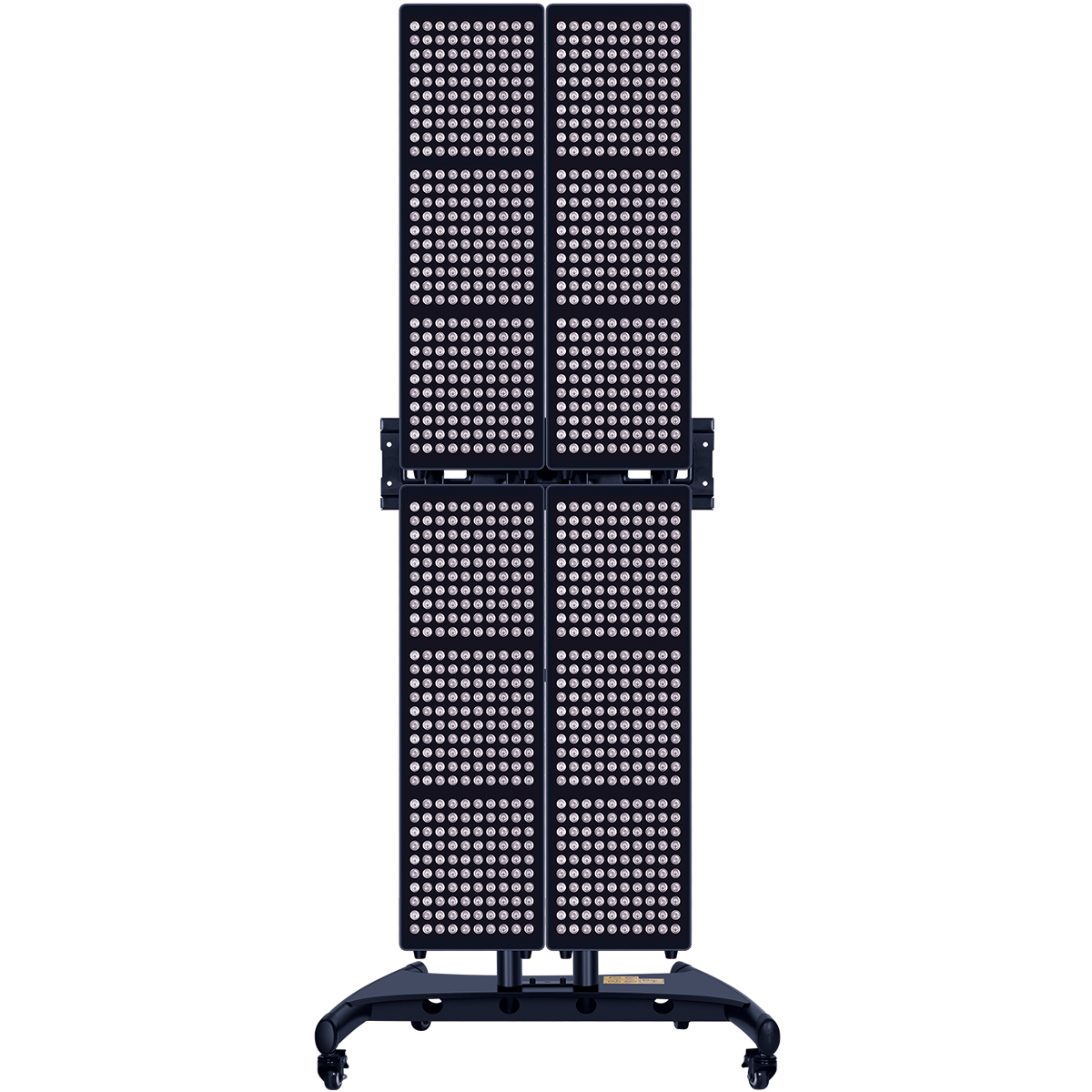 Electric Mobile Stand with Adjustable Heights and Angles
You can order the stand separately via the product link Electric Mobile Stand for Red Light Panel
Packing List
1 x Light Therapy Device
1 x Remote
1 x Power Cord (Follow your country standard)
1 x Door Hanging Kit
1 x Goggles
1 x Acrylic Base (Optional)
​Note: If your order quantity for the lamp is two or more, we will provide you with enough signal cable for free.
Use Suggestion
Session:10 – 20 minutes for the same area in one session. It is better to start with a shorter session if you never use light therapy.
Frequency: 1 – 2 times a day for the same area treatment. Keep minimum 6 hours interval for the 2nd treatment for the same area.
Distance: Expose your skin and keep a distance at 6 – 24 inches from the device for best results.
Protect your eyes: Please wear goggles when enjoying the light therapy.
Tips: Drink some water before and during use.
NOT USE UNDER THESE CONDITIONS
Children under the age of 13, pregnancy and epilepsy, photo-allergy, and photosensitizing medications like lithium, melatonin, phenothiazine antipsychotics, and certain antibiotics.
People with a history of skin cancer, insensitive to heat, and systemic lupus erythematosus should also avoid this kind of treatment.
Besides, if you are currently taking steroids or cortisone injections, you should not receive light therapy.
Precautions
1. One treatment session for the same area should not exceed 30 minutes.
2. Turn off all power after finishing treatment, pull plugs off when not in use.
3. Do not use the device in the circumstances of hot, humid, dusty or have lampblack in the environment.
4. Keep your device away from sources of liquid, such as drinks, washbasins, bathtubs, shower stalls, and so on.
5. Keep your device in a cool, dry, well-ventilated location without corrosive gas.
6. Prevent impact or violent vibration, move it gently.
7. Avoiding alcohol or corrosive solvent to clean all parts of the device.
Maintenance
Turn off the power of your device first, and then unplug the power cord. Then use a light damp, soft, lint-free cloth to clean exterior. Do not spray liquid directly.
3-Year Warranty
All panels of Infrared Red Light (IRL) purchased new from IRL directly or an authorized reseller are warranted for a period of three years from the date of shipment from the factory. IRL will be responsible for the faults of the products caused by the normal using during the warranty period, repair or replace the corresponding component found to be defective at no charge to the purchaser.
IRL shall not be liable for any faults or damage caused by misuse, accidental or intentional damage, force majeure, or the product has been modified.