Video: Product display
Product Specifications
Shell Material
Aluminum Alloy
Voltage
100-240V
Power Consumption
91W
Product Size
322 x 216 x 71mm (12.67 x 8.5 x 2.79in)
Net Weight
4.2kg
LEDs
70pcs * 3W
Lens Beam Angle
30 Degree
Wavelengths
630nm + 660nm + 810nm + 830nm + 850nm
Irradiance
136mW/cm² at 6 inches;
125mW/cm² at 12 inches;
110mW/cm² at 18 inches;
92mW/cm² at 24 inches.
EMF
0 µT @ 3 inches
Timer

(6 Levels)

5 / 10 / 15 / 20 / 25 / 30 Minutes
Dimmer (5 Levels)
20% / 40% / 60% / 80% / 100%
Pulse Frequency (6 Levels)
10 / 40 / 73 / 146 / 293 / 587Hz
Cooling Fan Quantity
1
Life Span
100,000 Hours
Warranty
3 Years
Housing Design (Patent)
1. Full aluminum alloy sheathing. Excellent thermal dissipation and outstanding oxidation resistance, not easy to change color than normal carbon steel material.
2. One-piece aluminum alloy frame, super thin but sturdy with rounded corner design, and all screws are at same height with the aluminum case. Whole smooth and flat, preventing any hurt may be caused by keen-edged corners or bumps.
3. The whole aluminum fabrication used a grit dose process to preserve it from scratch.
4. An special designed acrylic panel was attached to the front to protect the lamps. The panel is heat-resistant, dust-proof, and easy to replace if any breakage.
5. Anti-skid and anti-collision rubber feet are specially designed both in the bottom and rear for good protection.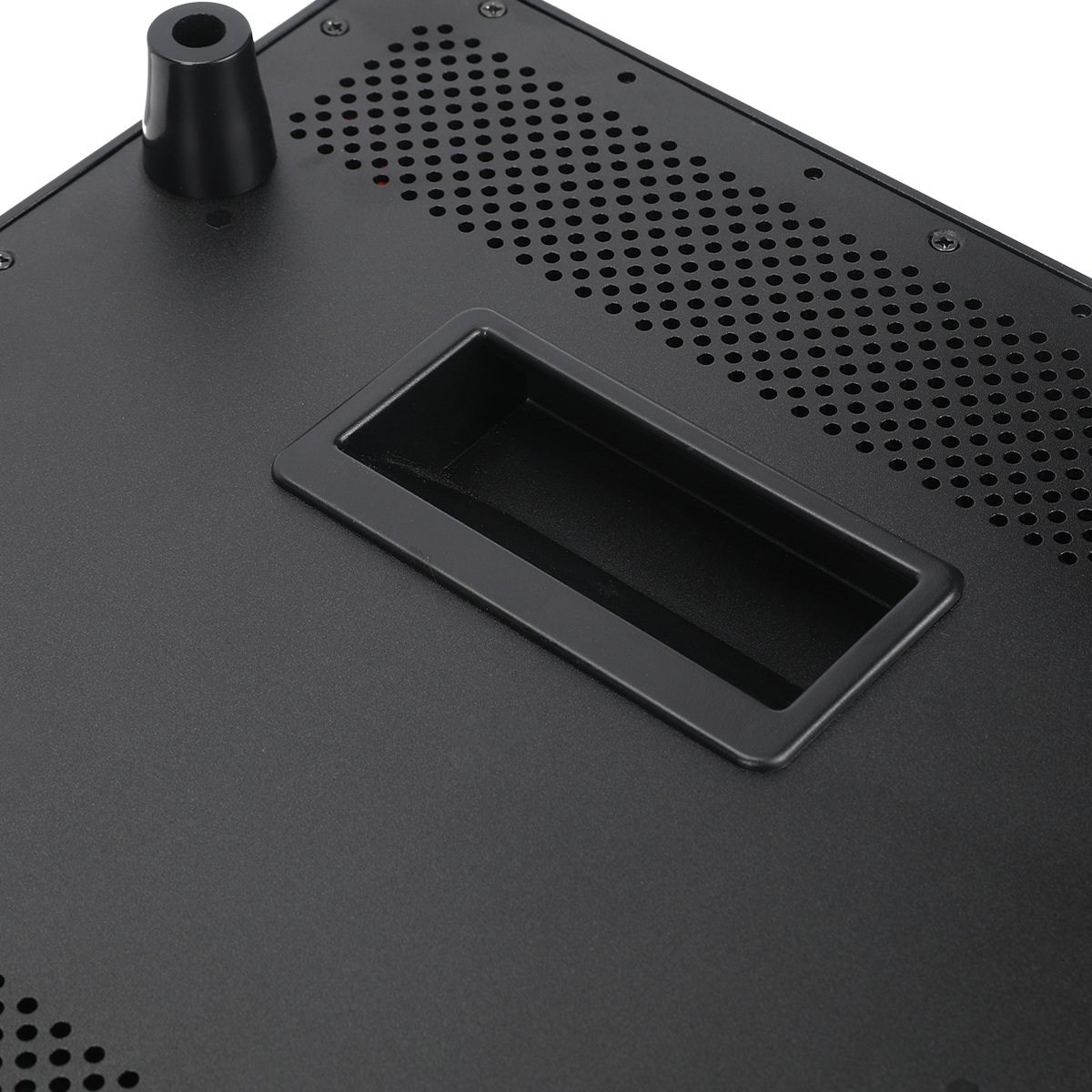 Cooling System Design (Patent)
Our professional engineers focus on the design of the cooling system to maximize the usage duration and life of the device. They have been upgraded over 10 times by improving the internal structure and external heat dissipation method. In the end, they made it come true. Our devices keep a low temperature during the process of constant use. So our customers who need to use it to treat different areas or families can operate freely and continuously without having to take a break for cooling.
The internal cooling system integrated hydrodynamic heat dissipation technology, cooling fins and a silent cooling fan were installed in the device to boost the air circulation and heat dissipation. Furthermore, we adopt honeycomb heat dissipation holes for better cooling results.
It is peaceful to enjoy your light therapy and meditation at the same time.
Irradiance and Coverage

Easy-to-use by Control Panel or Remote Control
After connecting the power and turning on the power switch on the lower back. You can click the buttons on the control panel or remote controller to set up the light, time, brightness and pulse frequency for light therapy.

Operation Video
Therapy for Multiple Areas
The red light therapy device is designed for different targeted areas, such as:
Face
It promotes collagen production, boosts blood circulation, activates the cells and stimulates metabolism, tightens, brightens and smooths the skin.
Cervical Vertebra and Shoulder
It is a common phenomenon that many people suffer from neck and shoulder disorders due to long hours of work, study or playing mobile phones. The light therapy lamp will promote blood circulation, relieve spasms and alleviate pains.
Abdomen
Warm the area and give women good care during the monthly special period. Accelarate fat consumption and metabolism for a healthy body.
Lumbar
If you have a sedentary life or suffer from lumbar pain, the red light therapy lamp is definitely a good choice for good care and physiotherapy methods. You can use the lamp to irradiate your lumbar to restore the vitality of the lumbar.
Legs
Phototherapy improves muscular performance in strength and endurance, protects against muscle injury, and accelerates recovery mainly when applied before physical exercise. In addition, it helps alleviate pain such as osteoarthritis, patellar tendinitis and more pain from the skeleton and muscle.
Feet
Many people have experienced various foot pains, like sprains, strains, wounds, ankle pain, plantar fasciitis, heel spurs, Achilles tendonitis, arthritis and diabetes. The Infrared Red Light Therapy device will help relieve both pain and poor sensation in the foot.
Video: Therapy show
Five-Waveband Design for Optimal Therapy Result
1) 630nm red light was generated by 7 LEDs.
2) 660nm red light was generated by 28 LEDs.
3) 810nm NIR was generated by 4 LEDs.
4) 830nm NIR was generated by 3 LEDs.
5) 850nm NIR was generated by 28 LEDs.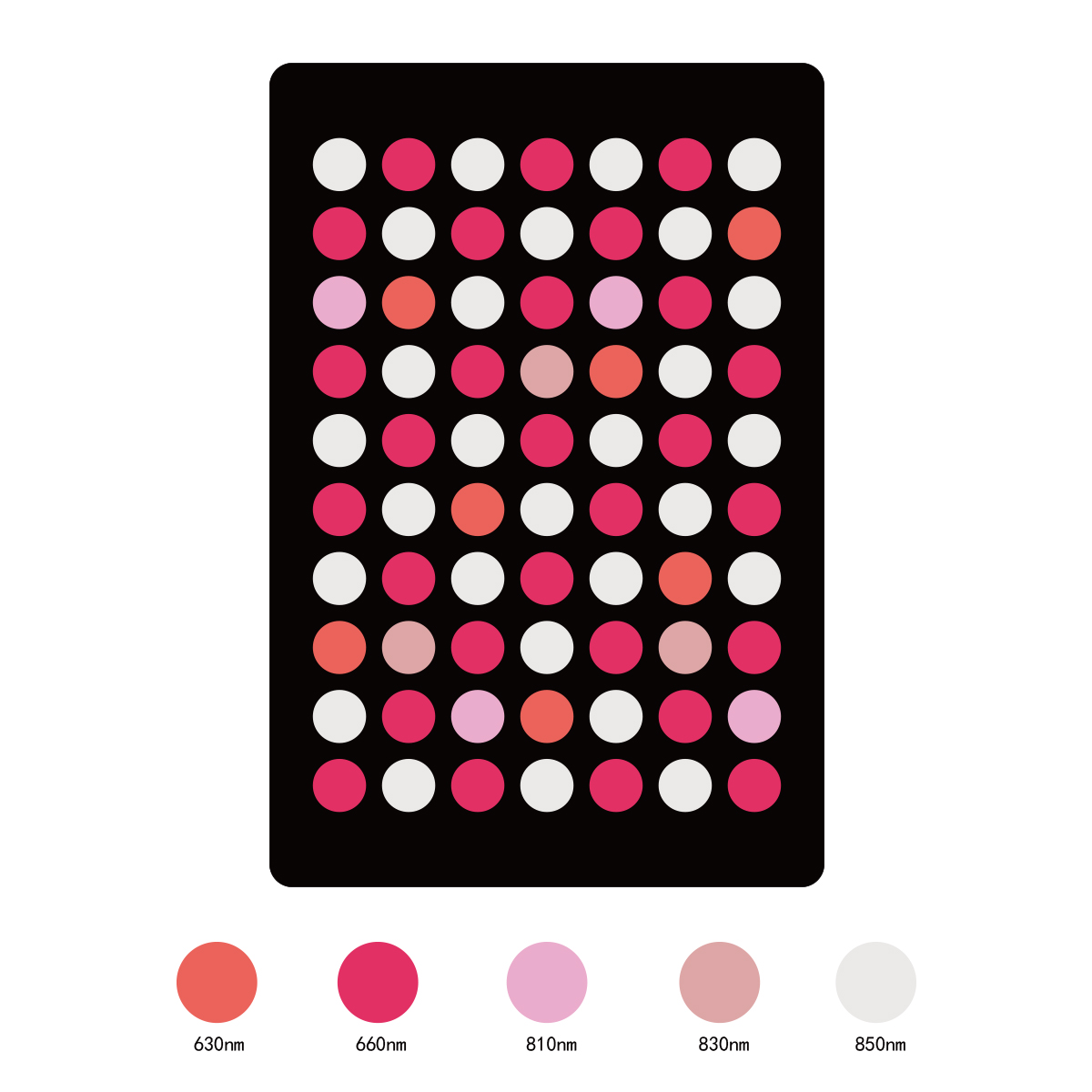 Packing List
1 x Light Therapy Device
1 x Remote Controller
1 x Power Cord (Follow your country standard)
1 x Goggles
Note: Tabletop stand could be ordered from "Accessories".
Use Suggestion
Session:10-20 minutes for the same area in a session. It is better to start with a shorter session if you never use light therapy.
Frequency: 1-2 times a day for the same area treatment. Keep minimum 6 hours interval for the 2nd treatment for the same area.
Distance: Expose your skin and keep a distance at 6-24 inches from the device for best results.
Protect your eyes: Please wear goggles when enjoying the light therapy.
Tips: Drink some water before and during use.
NOT USE UNDER THESE CONDITIONS
Children under the age of 13, pregnancy and epilepsy, photo-allergy, and photosensitizing medications like lithium, melatonin, phenothiazine antipsychotics, and certain antibiotics.
People with a history of skin cancer, insensitive to heat, and systemic lupus erythematosus should also avoid this kind of treatment.
Besides, if you are currently taking steroids or cortisone injections, you should not receive light therapy.
Precautions
1. One treatment session for the same area should not exceed 30 minutes.
2. Turn off all power after finishing treatment, pull plugs off when not in use.
3. Do not use the device in the circumstances of hot, humid, dusty or have lampblack in the environment.
4. Keep your device away from sources of liquid, such as drinks, washbasins, bathtubs, shower stalls, and so on.
5. Keep your device in a cool, dry, well-ventilated location without corrosive gas.
6. Prevent impact or violent vibration, move it gently.
7. Avoiding alcohol or corrosive solvent to clean all parts of the device.
Maintenance
Turn off the power of your device first, and then unplug the power cord. Then use a light damp, soft, lint-free cloth to clean exterior. Do not spray liquid directly.
3-Year Warranty
All panels of Infrared Red Light (IRL) purchased new from IRL directly or an authorized reseller are warranted for a period of three years from the date of shipment from the factory. IRL will be responsible for the faults of the products caused by the normal using during the warranty period, repair or replace the corresponding component found to be defective at no charge to the purchaser.
IRL shall not be liable for any faults or damage caused by misuse, accidental or intentional damage, force majeure, or the product has been modified.